AS OSHIOMHOLE CHAMPIONS ELECTORAL REFORM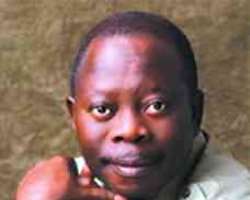 Gov. Comrade Adams Oshiomhole
One Man, One Vote or 'One Person, One Vote' is one of the gospels according to Edo State Governor, Comrade Adams Oshiomhole. The campaign is long awaited and for us in the Diaspora, we are in a hurry for the rally and to key into the gospel.
One Man, One Vote is a slogan that has been used in many parts of the world where campaigns have arisen for universal suffrage.
It became particularly prevalent in the less developed countries, during the period of decolonisation and the struggles for national sovereignty from the late 1940s onward. It played a decisive role in an important legal case in the United States, the United States Supreme Court majority opinion of Reynolds v. Sims, issued in 1964.
This phrase was traditionally used in the context of demands for suffrage reform.
Historically, the emphasis within the House of Commons was on representing areas: counties, boroughs and, later on, universities.
Rejecting the one-person-one-vote principle would be an unpopular and unradical position. For Oshiomhole, like in democracy in America, this gospel is one which makes it far uneasy for powerful special political interests to get a stranglehold on government or the processes that would install any government and that is the beginning of good governance or the fight against corruption.
Oshiomhole is one of our proud sons anytime, anywhere especially whenever he raises serious questions about his views on democracy, transparency, accountability, good governance, popular participation and equality. He is of diminutive stature- a big man with a small stature. Oshiomhole has become something of a legend in my country.
Everyone who follows contemporary news would know that Oshiomhole has been around for a good long while. Whenever there is something to do with the pay and conditions of workers, there would be Oshiomhole. He was an 'irritant' to former President Olusegun Obasanjo in all the years that he was in office. It started from the drama over the President's aide-de-camp on an occasion when the officials of labour wanted to carry a demonstration to the president right inside Aso Rock.
The bodyguard threatened to shoot any of them who came too close. It was difficult to imagine what else the bodyguard could have done in that circumstance, but if Oshiomhole knew that, he kept mum about it. Right there, at the head of the pack, he addressed a news conference, demanding the sack of the bodyguard forthwith. In the event, nothing was done, but there was no doubt in anybody's mind who owned the moment.
Oshiomhole! Or, to call him by his preferred description these days, 'the Comrade Governor of Edo State, was at the Court of Appeal, where his battle for One Man, One Vote was determined. The moment the judge was making his pronouncements, Oshiomhole made the sign of the cross. He swallowed. He was not the masterful controlled orator who was always on top of his subject, a mixture of passion and panache. He was a man watching the roll of the dice with a sick and sickening fascination, knowing his number would come up, hoping his number would come up, but knowing, as a realist, that this was Nigeria, and anything was possible.
The dice eventually rolled to a stop, and his number came up. The court simmered with excitement. The new governor tried to calm down his supporters, tried to keep the decorum of the hallowed chambers.(kulu kulu, kulu temper). The display of emotion, the sense that he could be so flustered, added a vulnerable, endearing flavour to your perception of him.
In some ways, Oshiomhole took labour unionism in Nigeria to, greater heights. Before him, there were men and women who had striven in the cause of the working masses with great valour, and sometimes at great sacrifice to themselves and their families. One only needs to mention names like the great Pa Imoudu, Alhaji Hassan Sunmonu and Frank Kokori.
Back to Oshiomhole. He has not been dogged by a doomed cause like his famous compatriot. His eloquence and passion have made the cause of workers interesting even to people of power and property who should be enemies. His general social activism, especially against unpopular military regimes has created an alliance of sorts between labour and business professionals who would normally be antagonistic.
Anybody who has seen him in the lobby of the Hilton, hobnobbing with pompous Senators and bank Directors would realise that he feels perfectly at ease and perfectly at home. He is fighting a class war by choice. He does not have a chip on his shoulder; this time, the political class on how to cleanse Nigeria's electoral process.
Because so much is expected of the new governor, the psychology of his position may be somewhat complicated. He would obviously want to do well. He would want to be seen as an 'action Comrade Governor which I hear he is and would want to see his giant strides when I visit Benin City for the flagging off of the One Man, One Vote rally.
For the Benin City reconstruction and rejuvenation, I do not expect the Comrade to be in a hurry because, the danger in all of these is the possibility of going for the quick kill. Ideas and policies need to be thought through and this I think he is also doing when I read the Retreat he organised at his Iyamoh Community where they planned and strategised for the Future of the State.
What is apparently good is not always what is actually good. What the people want is not always what is best for society. What is popular is not always what is best. Leadership is not just aggregating the prejudices and limitations of the citizenry, and acting on them.
It is a transformational process. A governor belongs to all the people, not the poor alone.
Social initiatives need to be scientifically costed and sustainably funded. People must be made to see that the purpose of governance is not so much to share wealth as to establish the ambience for its creation, while ensuring that nobody is denied a decent existence just because they do not have it.
By the time one has thought through all these signposts and barriers, one begins to wonder what latitude there is for action, and if one should really have bothered.
But there is a world of good to be done, and a lot of shibboleths to be exploded out there. There is change in the air, a sense that good things can happen in Nigeria, a sense that it's about time good things started to happen. A populist idealism laced with a hard-eyed pragmatism, like the One Man, One Vote campaign will usher us into 2011 elections.
While welcoming Oshiomhole to the real world of politics, and his One Man One Vote sermon, am also encouraged to hear that Governor Emmanuel Uduaghan of Delta State is also to flag off a sensitization campaign of the people to ensure that 'one man one vote' counts in the next general elections in the State.
Somebody has to jump-start the process of good governance and healthy electoral process and others will follow. Edo State Oshiomhole has offered to take the lead and his Delta State counterpart, Uduaghan, has offered to key-in.
This campaign, one would urge the Federal Government, the Peoples Democratic Party (PDP), Action Congress, other political parties, Independent National Electoral Commission (INEC) Chairman, Prof. Maurice Iwu and other related governmental and non-governmental Ministries, Departments and Agencies to embrace as part of their contributions to the electoral reforms.
• Dr. Amakhu Okojie writes from United States of America (USA)