They can't kill me- King Sunny Ade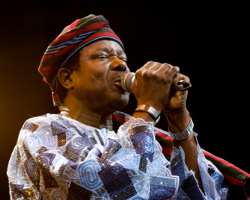 Nigerian music legend King Sunny Ade was rumoured to be dead earlier this month. Rumours had it that he slumped during a stage performance and gave up the ghost. The 69 year old singer was not even aware of this news until friends started calling him.
He said that "If I were in a hospital, I would say so. There wouldn't have been any reason for me to lie. In fact, the hospital would also see me as a liar if I lied that I wasn't admitted or sick. But the truth is that I have not been sick. I am hale and hearty." he didn't understand where the rumours were coming from and who was responsible for it.
"Don't mind them. They can't kill me. God will not allow anything to happen to me." he said. He added "I don't look for enemies and I don't have any enemy."
On the brighter side, he is starting a radio station and the launch date will be related to us soon. On September, KSA will be 70 years and it is a special year for the veteran singer who has achieved a lot in the Nigerian entertainment industry. Thank goodness, he is still alive.