Meet Sexy Abuja Base Female Fire Fighter Who Has Been Saving Several Lives (Photos)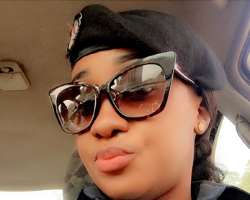 The Nigerian blogospehere has been buzzing with the picture of an Abuja based female fire fighter, Dennis Dooshima, who has gotten everyone talking about her good looks and the bad curves she's got.
With such a pretty lady in a job that most people will never want to subscribe to, sure her beauty can help put an end to fire incident in the country.
Rather than get carried away with all the praise hipped on her base on her beauty, Miss Dennis, has enured that she continues to enlighten her friends, families and admirers on safty measures in case of a fire outbreak.
Making everyone know that she enjoys her job of saving lives and properties she stated that people do not have to run abroad to see female fire fighters as Nigeria is also blessed with females saving lives.
She also takes out time to take on how to manage homes despite the challenges that comes with it also noting that "any woman who cannot keep a home has failed."