2011: GO AND MOURN YOUR LATE WIFE, OJUDU TELLS IBB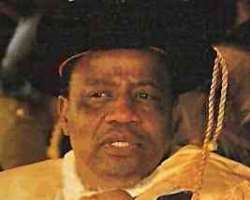 Gen. Ibrahim Babangida
Femi Makinde, Ado-EkitiA senatorial aspirant in Ekiti Central, Mr. Babafemi Ojudu, has advised former military Head of State, Gen. Ibrahim Babangida (rtd), to withdraw from the race to Aso Rock and go back and mourn his late wife, Maryam.
Ojudu, who spoke in Ado-Ekiti on Wednesday as a guest lecturer at a symposium organised by the Ekiti State chapter of the Nigeria Union of Journalists, mobilised Nigerian youths to rise against the former military dictator.
Ojudu, the Managing Director of The News magazine, said that the second coming of IBB to rule the nation should be resisted by every Nigerian, who wanted progress for the country.
He said, 'He caused a lot of havoc in the country. The statement credited to him that no Nigerian youth is capable of leading the country is a great insult to the youths.
'The youths of this country should rise and ask IBB to go back home and mourn his late wife. He does not have anything good to offer us. We have suffered enough in his hands.'
Ojudu said that the situation in the country in the next five years would be far worse if IBB was allowed to recapture the Presidency he was eased out of about 17 years ago.
While describing IBB as a 'trickster and an insincere person,' he said that the former military dictator was rebuffed when he attempted to join the AC.
According to him, AC, which is a party of the progressive, has no place for an unmarketable politician like IBB.
He said, 'He is a trickster. Look at how many journalists were killed during his time. Look at what he did to our colleagues (journalists).
'Look at what happened to our institutions when he was around. He destroyed the system and he is now seeking to come back. How do you market that type of person? I am a victim of his oppression maybe that is why I am biased.'
While commenting on the fierce contest for the Ekiti Central Senatorial ticket of the AC, Ojudu said that the contest would not be a do-or-die affair. He said that there was nothing wrong when friends came out to contest for the same elective position.
Ojudu, the Commisioner for Information, Lagos State, Mr. Opeyemi Bamidele, former Lagos State Commissioner for Information, Mr. Dele Alake and the incumbent senator representing Ekiti Central, Mr. Bode Ola, are in the race to pick the ticket.
He said, 'I don't see anything wrong in friends coming out to contest for the same position. Alake is my friend, Opeyemi Bamidele is also my friend. I can drink and eat from the same plate with all the contestants. They are rich like I am also rich.
'Our contest won't tear the party apart. The only time I will be afraid is that if I am contesting against a man who has just lost his business, he could pull out a gun to your head. If anybody among them wins, I will congratulate him and work for his success.'