Men Know What They Can Get From Dating Me -Laura Ikeji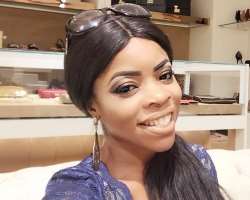 Laura Ikeji, the younger sister of Linda Ikeji doesn't joke with the huge opportunities that Linda's fame have provided for her to climb the ladder of success fast without doing anything. Laura has built a name for herself and this is solely on the influence wielded by sister, Linda.
She doesn't care what anyone got to say about her or call her for using this leverage. "I don't care if people call me Linda's sister. The most important thing is I capitalised on my sister's success. A lot of people don't. Instead of doing regular jobs, begging for money or doing runs and I capitalised on my sister's success and it's working."
There is one more thing she is getting free, a lot of attention from men. "A lot of men give me attention because i'm Linda's sister and they know what they can get from dating me." Rumour has it that she is enjoying a romantic affair with ex-footballer and Kanu Nwankwo's younger brother, Ogbonna Nwankwo.
The two are seriously into one another and have been keeping their affair close themselves and few family members. Though Ogbonna, who works closely with his brother, Kanu Nwankwo, has two kids from a previous relationship that went sour, he's said to be head over heels in love with Laura.