Nollywood Producer, Fidelis Duker wins Big in Poland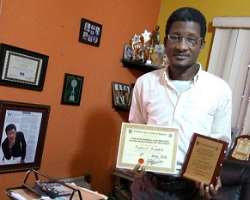 The year 2016 has just started in a good note for Nollywood producer, Fidelis Duker, as he was recently awarded in Poland.
Fidelis can be described as one of the veterans who have used some of his works to appeal to many homes both locally and internationally by telling stories the Nigerian way.
He was given the certificate and award of Excellency for my pioneering effort in the formation 18 years ago of the Directors Guild of Nigeria.
According to him, "Got back from Wroclaw (pronounced VROSLAV ) in Poland to receive this certificate and Award of excellence for my pioneering effort in the formation 18 years ago of the Directors Guild of Nigeria. I must say thank you to the executive and members for recognizing my humble contributions."