DENZEL WASHINGTON RECEIVES MIXED REVIEWS ON BROADWAY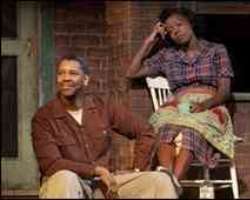 Washington starred in a revival of Julius Caesar in 2005
Oscar-winning star Denzel Washington has received mixed reviews following his return to the Broadway stage after a five-year absence.
He plays Troy in Fences, by August Wilson, a role made famous on Broadway by James Earl Jones in a 1987.
"His (Washington's) Troy… is smaller than Mr Jones's was, but that also means it is on a more human scale," wrote the New York Times reviewer.
But The Financial Times said at some points, "his directness seemed hollow."
'Compelling storyteller'
However, it also recognised Washington's "commanding gifts as an actor" at other times during the performance and added that the actor "excels at storytelling".
The LA Times wrote: "Under Kenny Leon's fast and forward-leaning direction, Washington has some difficulty modulating his theatrical intensity early on" and "added that he is not as natural a Troy as James Earl Jones".
But it conceded Washington "turned in a lucid outline" of his character.
USA Today had a similarly mixed response: "Though Washington may not portray Troy's spiritual quandaries as completely or hauntingly as others have, he makes his story compelling."
The play, which explores race relations in 50s America, opened on Monday in New York's Cort theatre.
It also stars Tony award-winner Viola Davis in the lead female role.