MUSIC: Dr Nosir - Dem Call Me Nosir @Maboro30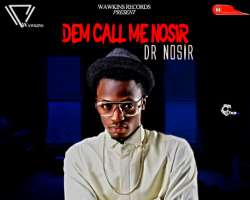 Wawkins Records frontman Ewere Nosir, better known as Dr Nosir is a Nigerian Recording artiste,song writer,dancer, performer and has won various awards like Nokia Best Uniport musical Artiste(2010),3rd best dancer in Edo state hosted by Fanta (2004) etc,etc.
He is also a medical Doctor by profession ..He started his musical career while in secondary school (S.I.U) and later joined a crew called D'kruz(2009) before moving on to sing solo .
Dr. Nosr has major club banger like Find my lady,Poor and rich credited to his name. He has worked with top Naija musical producers like Tony ronse,Berry blue and Swag city.
He has also featured international musical art like Qkrest in his top banger.Dem call me Nosir is his latest banger ,the song is basically a description of good life he has experienced,its expected to be d top hit in Nigeria musical industry..he is presently working with wawkins records..
Expect more from the icon ...
DOWNLOAD AND ENJOY
DOWNLOAD
https://my.notjustok.com/track/download/id/83606