Sophie Momodu Turns Her Life Around After Scandal with Davido (Photos)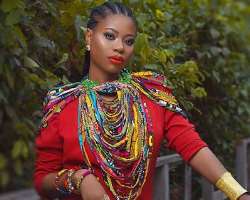 Smart ladies know how to use scandal to rise in life. Few months ago, niece to popular Ovation publisher Dele Momodu, Sophie Momodu was all tears with her baby daddy, Davido as they fought for their baby. See her today, doing a lot of things for herself including launching a fashion line that is centered around the 'African Woman'
Sophie is working hard to ensure that her fashion sense is translated into amazing clothing designs for the African women. Did we tell you that she has equally launched her Precious Jewels Foundation?
In her write up for the fashion label, she said: "The African woman is the most hidden treasure on earth.. Often highly underestimated. She's proud of herself, she respects herself & others.
She's aware of who she is.. She neither seeks definition from friends nor does she expect anyone to read her mind. She's quite capable of articulating her needs."
She added "A good African woman is hopeful & strong enough to make all her dreams come true. She knows love therefore she gives love. She knows her past, understands her present & moves towards the future. She does not live in fear of the future because of her past. Instead she understands that her life experiences are lessons meant to bring her closer to self knowledge & unconditional self love. The African woman knows God... "
Take a look at some of her amazing pictures.