Maheeda Admits She Sells Her Body to Make a Living in Holland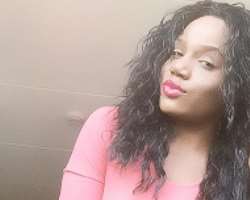 Finally, controversial Nigerian singer, Maheeda, has frankly revealed what she does for a living that enabled her to put a massive structure she can call her own in Holland.
The controversial singer and mother of one had few weeks ago gave a close hint on her source of wealth which got many talking after she shared some clips of strippers counting their proceeds in their confines.
To clear all doubts, Maheeda, has come out to admit that she uses what God has created in her to make a living for herself.
In new explicit photo she described her genital as her "money maker."