Danjuma, retired military general, named in Panama Papers leaked offshore scandal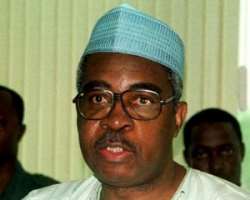 LT. Gen. Theophilus Danjuma (rtd), former minister of defence, has been named among prominent Nigerians that operated foreign accounts and had foreign companies while holding public office.
German newspaper, Süddeutsche Zeitung, had on Sunday released the Panama Papers, the biggest leak in the history of data journalism, publishing online 11.5 million documents from Panamanian law firm Mossack Fonseca, which showed how prominent people including Senate President, Dr. Bukola Saraki, a former governor of Delta State, James Ibori, ex-Senate President, David Mark and others criminally hid money using anonymous shell corporations across the world.
The Panamanian law firm, regarded as one of the world's most secretive companies, according to the documents, has helped clients launder money, dodge sanctions and evade tax.
According to documents, Danjuma is a long time user of offshore entities, and the Mossac Fonseca files have now exposed another of his companies.
The database, Opencorporates, indicate that Danjuma served as director and vice-president of Cross Group Holdings International, which was registered in Panama on October 15, 1976.
Danjuma was still in service and was chief of army staff at the time the company was incorporated. He was also director of Zara Logistics, a company registered in Cyprus on September 2, 1993.
Another company is – Eastcoast Investments Inc., which Danjuma incorporated in Nassau, in the Bahamas, on March 25, 1997.
At inception, Danjuma and a certain Colin Marcel Dixon were directors of the company.
Premium Times reports that the retired general formed the company to enable him to do business with Scancem International of Norway when the latter decided to expand its involvement in Africa to include a project in Nigeria.
But the company soon became embroiled in a messy bribery scandal, with Scancem, according to court papers, later buying out Eastcoast Investment from the project on December 1, 2003.
It was later determined that "the money went mainly to another account, Eastcoast Investment had, to Gen. T.Y. Danjuma and a certain The Volta Company."
The retired general was also among global personalities found to maintain secret accounts, operated with codes, with the Swiss branch of banking giant, HSBC. He was linked to HSBC account 15731CD, which was opened in 1993 and closed in 2001.
Court documents obtained by Premium Times independently of the leaked Mossac Fonseca files described Scancem, Danjuma's business partner, as being "involved in extensive bribery and corruption in a number of countries in Africa." – Premium Times