See What Eniola Badmus Displayed in Atlanta (Photos)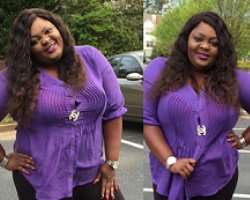 Nollywood actress, Eniola Badmus, was recently in Atlanta and the actress has been having fun of her life with ease without being distracted with negativity.
She recently shared some of her pictures which have gotten many talking about her weight. Knowing how much weight she continues to add, the actress is not bothered and will not accept any form of attack about her weight.
She stated that people should rather appreciate the beauty they see in her than complain about the body. The actress is so healthy that she now uses brooch to hold her cloth.
"Quite pretty, ignore the brooch, concentrate on the swag," she said.