DOKUBO-ASARI REGAINS FREEDOM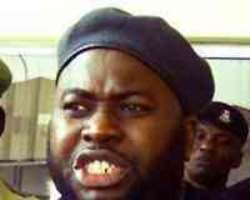 Alhaji Mujarhedeen Asari-Dokubo
A former President of the Ijaw Youth Council and leader of the Niger Delta Peoples' Volunteer Force, Alhaji Asari Dokubo, who was detained by security operatives at the Seme border on Sunday, has regained his freedom.
The former militant leader said that he was held by operatives of the SSS at the border at 1.43 PM and released at 6.30 PM same day.
Asari said that he was in the country to honour invitation by ex-militant leaders, such as Government Tompolo, Ateke Tom, Boyloaf and other ex-fighters in the region, to be part of the peace process.
Speaking in a telephone interview with our correspondent on Monday, Asari said that he was released after the intervention of highly placed individuals in the society.
He said that when he got to the Nigerian end of the border at Seme, a director of the SSS, whose name he did not disclose, informed him that he was needed for interrogation in Abuja.
The NDPVF leader said that he refused to obey the directive of the SSS director because of his conviction that he had not committed any offence to warrant being questioned by the security agency.
He said that he was, however, released around 6.30pm when the SSS director informed him with profuse apologies that he was free to go.
He said, 'I left Accra in the morning, through Aflao border from Togo, got to Cotonou, arrived at Seme border. It was at the Seme border that an SSS operative told me that I was wanted in their office in Abuja for questioning.
'So I told them that I was not coming down from the car. I sat in the car. They closed the border. I arrived at the border, around 1.43pm. They kept me until the director came later to inform me that they were asked to take me to Abuja. I was not molested, I sat down. At about 6.30pm, the director came and said they were very sorry, it was a routine thing.
'At the border, I called IYC, Kingsley Kuku, his wife and others; they made calls. So many people in the South-South, called and made contacts. Top politicians in the South South including Timi Alaibe, ministers and others, military officers, and even people in the security service prevailed on them,' he said.
He said that he had been harassed in several airports in Europe, especially Holland and Germany, because of security reports from Nigeria recommending him to be included on a watch list.
Asari maintained that he was opposed to the Federal Government's amnesty programme because he was not a criminal.