CONDEMNED PRISONERS: GROUPS, EL-RUFAI FAULT GOVS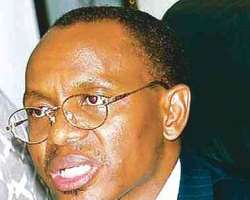 Former Federal Capital Territory Minister, Mallam Nasir el-Rufai
The Civil Rights Congress, the United Action for Democracy and other human rights groups on Sunday night in Kaduna protested the 36 state governors' endorsement of the execution of about 316 prisoners on death row in prisons across the country.
Also, a former Minister of the Federal Capital Territory, Mallam Nasir el-Rufai, has expressed opposition to the move.
Hundreds of the members of the CRC and UAD bearing 316 lighted candles protested in front of the Kabala Christian Cemetery located about two kilometres away from the Kaduna Central Prison at about 7.30 pm on Sunday.
Coincidentally, the cemetery has in the past 60 years, served as the burial ground for executed prisoners in Kaduna.
The 36 state governors had last Tuesday resolved to approve the execution of condemned criminals as part of the measures to decongest the nation's overcrowded prisons.
The governors had taken the decision after deliberating on the challenges posed by prison congestion during the National Economic Council meeting presided over by Acting President Goodluck Jonathan.
About 15 inmates of the Kaduna Central Prison were also feared dead on Tuesday during an attempted jail break.
Addressing the protesters, President of the CRC, Mallam Shehu Sani, however, condemned the state governors' approval of the execution of the 316 prison inmates currently on death row.
He said, 'We do not believe that the resolution of the state governors would solve the problems of crime in Nigeria. We do not believe that the resolution to execute 316 inmates will bring about fundamental changes in our criminal laws in Nigeria.
'It is inhuman and evil to execute 316 inmates, most of whom have been in detention in the past 16 to 20 years. Most of the inmates in Nigeria's 135 prisons are awaiting trial and the few that are on the death row cannot be sacrificial lamb for a system that has failed.
'The lives of 316 people are so precious and must not be wasted. We don't waste 316 lives because we want to make a statement. We must not waste 316 lives because we want to economize the funding to the Nigerian prisons.
'We are of the belief that these human beings if given a second chance could make a difference to our country.
'Executing 316 people will not solve the problem of armed robbery or violent crime in our society.'
Meanwhile, el-Rufai said on his Facebook blog on Saturday that the move would not help the country.
In a posting on his account, he said, 'Rather than execute condemned criminals as a way to decongest prisons, governors ought to initiate projects that will stimulate economic activities so youths will have viable commercial and social activities to occupy themselves as most crimes in Nigeria are poverty induced.
'Fight the disease, not the symptoms. Corrupt officials are a greater threat to Nigeria's national security and should be dealt with first. Nasir.'