APPEAL COURT RESERVES RULING IN EMODI'S SUIT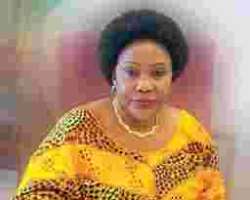 Senator Joy Emodi
The Court of Appeal in Enugu on Monday reserved ruling in a suit by Senator Joy Emodi seeking a review of two court judgments on the winner of the April 28, 2007 election for Anambra North Senatorial District seat.
After listening to the lawyers to the parties on the fresh application, the appellate court presided over by Justice Sule Galadima, with four other Justices of the Court of Appeal, Amiru Sanusi, Ladan Tsamiya, Ariwola Olukayode and George Shoremu adjourned the matter indefinitely.
The appellate court added that it would communicate the date of judgment to the parties accordingly.
The appellate court had in two separate decisions affirmed the elections of serving Senator Emodi of the Peoples Democratic Party and Chief Alphonsus Igbeke of All Nigeria Peoples Party to occupy the seat.
The court had in the first judgment in appeal number CA/E/P/EPT/73/2008 by Mrs. Jessie Balonwu against Senator Emodi, upheld the decision of the Anambra State Election Petitions Tribunal which declared Emodi as the valid winner of the April 28, 2007 senatorial election.
But the appellate corut had in another appeal number CA/E/EPT/04/2009 filed by Igbeke, asked Emodi to vacate her seat for the appellant.
Dissatisfied with the judgment which automatically put an end to her membership of the upper chamber, Senator Emodi filed a motion to the court, seeking a legal empowerment to proceed to the Supreme Court for further interpretation of the two contradictory judgments.
Lawyer to Emodi, Chief Festus Okoye, had defended the two motions (which were consolidated by the court), praying the court to set aside its earlier judgment of March 25 and also refer the major issues raised in the judgment to the apex court for interpretation, guidance and direction.
But Igbeke's lawyer, Chief Lateef Fagbemi (SAN), urged the court to dismiss the motions by Emodi on the grounds that there was no need for the case to be referred to the apex court.
He argued that the first petition in which Emodi's election was upheld was dismissed for non-joinder of presiding officers in the said election.
He, however, informed the court that the latest judgment sacking the senator went to the nitty-gritty of the election and discovered that INEC was wrong in declaring Emodi as the winner of the said election.
Fagbemi also asked the court to make consequential order mandating the Senate to immediately comply with its judgment of March 25, which returned Igbeke as the winner of the election by swearing in the ANPP candidate.
Though the lawyer to the Senate, supported the motion of Emodi seeking a judicial review, other respondents in the matter including Balonwu and INEC kicked against it, insisting that the motions were filed ostensibly to delay Igbeke from being sworn in.