GREECE DEBT: MERKEL PLEDGES SUPPORT FROM GERMANY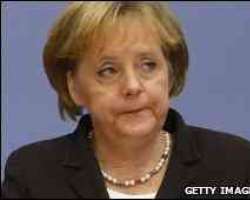 German Chancellor Angela Merkel has pledged German support to a European financial aid package for Greece, provided "certain conditions" are met.
Speaking to reporters, the chancellor said that Germany would play its part in order to ensure the future stability of the euro.
But she said Greece would have to be ready to accept "tough measures" over several years in return.
Germany has faced criticism over its lukewarm response to Greece's problems.
Fears that Europe's largest economic power would refuse to back a rescue package for the struggling Greek economy has helped to hit investor confidence in recent weeks.
"Germany will help if the approproate conditions are met," Mrs Merkel said. "Germany feels an enormous obligation towards the stability of the euro.
"If Greece is ready accept tough measures, not just in one year but over several years, then we have a good chance to secure the stability of the euro for us all."
She also rejected the idea of expelling Greece from the eurozone.