Amazing Wedding Picture that Proves That Love Is Blind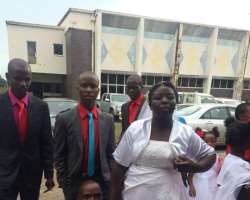 We have seen a lot of weddings take place but when we see couples with special features, we often want to know how the couples met. This week, a wedding picture showed up online and it simply shows that love is blind…Did we say true love exists?
The groom in question has gotten all the love he ever wants as he gets a lot of well wishes from fans and well wishers.
"Okpario,hmmm…Thank God for the man. This shows that every man has a woman, same goes for a woman. Just be patient", someone has commented.
However, another commenter has a different view and said "I beg to differ. This isn't true love. There must be a reason for this. The lady isn't even smiling on her wedding day, no powder/ make-up. If you check Aki's wedding picture, you will see the wife smiling even though she married him because of money!