WORLD CUP WILL BE TOUGH –MCCARTHY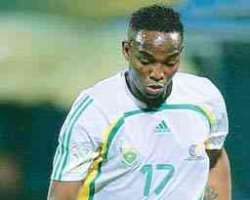 Benni McCarthy
If hosts South Africa are to pull off a shock and make a run deep into the finals at the upcoming FIFA World Cup, a man likely to be banging in the goals is Benni McCarthy. Currently plying his trade in England, McCarthy has long been South Africa's highest-profile player.
Approaching the end of his career and looking forward to the first FIFA World Cup finals on African soil, the 32-year-old striker took time out to speak to FIFA.com on his third appearance on the world's biggest stage.
How do you think South Africa will do at the 2010 FIFA World Cup on home soil?
If I am honest, it is going to be really, really tough. We couldn't have a more difficult group. Uruguay are a top South American side, great players in their line-up, so they are going to be a really tough nut to crack, and then Mexico are extremely difficult. And obviously there's the French side. They've not been the best over the last two years but they've still got the players.
Is there a big advantage, though, to playing at home in front of your own fans?
The advantage for us is that we do play at home, we do have the majority of the fans on our side and we do have the conditions that we are used to and that other teams will have to adapt to. So maybe that could be a factor that could count for us.
The first game against Mexico must surely be considered crucial, a win could hand South Africa some momentum and create a fever that could carry the team forward…
I think the first game is possibly everything. The first game is our final. The first game will tell us if we are going through or not going through. If we can beat Mexico, that will send everyone's confidence sky high. It will make us believe we are good enough to beat France or Spain or whoever comes along in our path later. That will set us up fantastically and hype things even more, with the fans and everyone. And then I think we can actually be the surprise package of this World Cup
How crucial is head coach Carlos Alberto Parreira in this whole recipe for potential success?
I think he's probably the one who is going to ultimately determine how far we go. With his experience, we couldn't have got a more high-profile manager to take our team to the World Cup. With his experience and his ability and obviously how he gets his ideas through to the players, he has been great. Everyone has taken to him. We've got a great understanding.
And you are still key to South Africa's hopes…
Ah yes, obviously, I'd like to think that's true. When it comes to high-profile matches, you need players with a lot of experience, who've been there and played at that level, to try and take you through, calm things down and lead. If I'm selected, then I'm going to be looking at myself to try to provide that experience, to calm things down, and obviously to try and make a difference as well. Not just by scoring goals but just putting everyone at ease, not letting them get overwhelmed by the World Cup fever. The fact that I've been there twice before will help me to be a senior figure.
Did you understand the enormity of competing in a FIFA World Cup when you played first in France in 1998? You were barely out of your teens…
I think now it's completely different. Playing in a World Cup, whether it's your first, second, third, no matter how many you play in, you have to take it as a blessing because some of the greatest players in the world never had the opportunity. For me, this World Cup is my last.
Who is going to win this World Cup?
[Pauses] obviously my favourite team since growing up has always been Brazil but Spain are big contenders to go to the final and to win it. They are the most attractive football-playing side over the last two years or so.
What about England, where you have lived and played for some time?
Of course, England are always good contenders but, you know, the media
like to pump them up, like they are favourites. They have a serious manager and they'll be up for a great fight. But I don't see England as World Cup winner, but maybe a semi-finalist, something like that.
Can one player win the World Cup on his own? A player like Argentina's Messi perhaps?
I think that's very much possible. Maradona did it with Argentina before. They had great team players but Maradona's quality overshadowed everything and he literally did carry the whole team to the podium. He was the key factor when Argentina last won the World Cup [in 1986]. Yeah, I think that's possible and what we see the kid [Messi] does for Barcelona, you think how is it possible at 22? Can he even get better than he is now?
What about the other African teams, do they have any realistic hope?
I think the Ivorians have on paper an extremely strong side but I've seen them crumble too many times in the African Nations Cup, where it matters the most. Basically there is too much individualism. In African football, players still feel they have to do it on their own. Eto'o and Drogba and Essien might feel because they play for Chelsea and Inter and are among the best players in the world, they have to carry too much of their national team on their own. I think that's the problem we have in Africa. We don't do things too much as a team. Hopefully this World Cup is going change things.