AKPOBORIE FAULTS LAGERBACK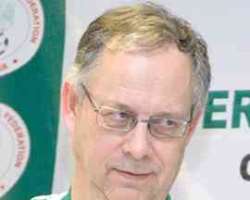 Lagerback
A former Super Eagles forward Jonathan Akpoborie is not happy that coach Lars Lagerback has not included Columbus Crew midfielder Emmanuel Ekpo in his list of players for the World Cup camping.
Akpoborie told our correspondent on the telephone on Sunday that the USA-based Ekpo deserved to be at the World Cup.
He said, 'We all thought Lagerback had deep knowledge of all our key players everywhere in the world but the list did not show he has anything special.
'We have some good players that are missing from that list. Where is Emmanuel Ekpo, Macaulay Chrisantus and some other players that played for Nigeria in 2005 and 2007?
'Some of the people he has on the list do not have regular playing time in their clubs yet, they want to be at the World Cup.
'Ekpo has been playing regularly for his Major League Soccer club. He has been a major factor in the American club's success and we are overlooking him when we need a holding midfielder.
'The list does not reflect Lagerback's promise to look at players playing outside Europe and this simply means he was influenced by the Nigeria Football Federation on who to select.'