Mixtape: DJ Bobbi Press (@Djbobbipress) – Owo Eko Mixtape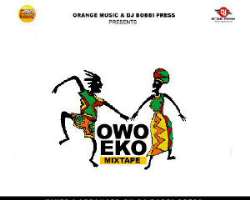 Record Banks & Radio Rivers 99.1fm Legendary Mix King DJ BOBBi PRESS x Orange Music Records Front line artiste KLEVER JAY unleashes a hot classy 1hr 19mins Mix tape #OwoEko featuring the likes of Cynthia Morgan, 2Baba, Myire, Lucy, Patoranking, Brymo, Wande coal, Kaycee' A, Falz, Jumabee, Orezi and Reminisce.
You haven't really seen anything that sounds like this very one. Check it out #OwoEko @Kleverjay01 x @DJBOBBiPRESS download and enjoy.
Follow on Twitter:
@DJBOBBIPRESS @Kleverjay01 , @djkaycee_a
DOWNLOAD LINK[No Tags] :
1. DIRECT DOWNLOAD LINK.
https://my.notjustok.com/track/download/id/74704/by/W9_XpPY~dR
POST SAMPLE:
http://djkayceea.com/mixtape-dj-bobbi-press-djbobbipress-owo-eko-mixtape/
PLEASE REPLY WITH LINK or NOTIFY WHEN POSTED or CC: ,
@DJBOBBIPRESS @Kleverjay01 , @djkaycee_a
DJ KAYCEE'A OFFICIAL MAILING ADDRESS
Phone: +2347034727284
BB Pin: 29E0D8B1
Twitter FaceBook Website
07034727284