IMF CHIEF STRAUSS-KAHN TRIES TO EASE GREECE FEARS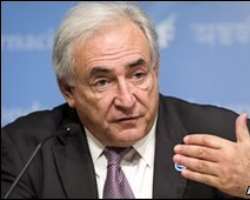 Dominique Strauss-Kahn, the managing director of the International Monetary Fund, says the Greek people should not fear the IMF.
He was responding to a Greek journalist who said Greeks are demonising the IMF and fear the country's economic crisis will be worse with its involvement.
He replied that the IMF was there to help Greece, but deflected questions about negotiations with its government.
On Friday, Greece asked for an EU-IMF bailout of its debt-ridden economy.
Mr Strauss-Kahn was speaking after the agency's main ministerial steering committee met in Washington.
'Act fast'
The agency has a reputation for requiring borrowing countries to make deep cuts in popular government spending programmes, says the BBC's economic correspondent, Andrew Walker, from the IMF headquarters in Washington.
But Mr Strauss-Kahn said the Greek people should think of the IMF as a "cooperative organisation" where the countries of the world work together to help those in trouble by providing resources and advice on behalf of the international community.
"Greek citizens should not fear the IMF," he said. "We are there to try to help them."
Meanwhile, politicians from Greece's fellow Eurozone members, France and Germany, have warned Greece it must be far more prudent in future.
The French economy minister, Christine Lagarde, told the French newspaper Journal du Dimanche that the EU would come down hard on Greece if it failed to act responsibly: "In the case of default on repayment, we will immediately put the foot on the brake."
Germany's finance minister, Wolfgang Schaeuble, also said aid should not be taken for granted, but was conditional on prudent behaviour.
He told the mass-selling Bild newspaper no firm decision had been taken and any loan depended "entirely on whether Greece continues in the coming years with the strict savings course it has launched".
Opposition to aid for Greece runs deep in Germany. Bild recently wrote a so-called open letter to Greece asking whether Germans went to work such long hours and for so many years simply to let Greeks retire in their 50s.
But Mr Schaeuble also stressed the importance of currency union to his country.
He said: "We are defending the stability of the euro, because Germany benefits (from the currency) at least as much as all the others. Help for Greece is therefore not a waste of taxpayer money, but a move based on fundamental German interests."
Earlier, US Treasury Secretary Timothy Geithner called on the IMF, the EU and the Greek government to act quickly to tackle Greece's debt crisis.
Mr Geithner asked the IMF and Euro zone countries to put together a package of strong reforms and financial support after talks with with Greek Finance Minister George Papaconstantinou, Mr Strauss-Kahn and several EU officials.
"Secretary Geithner encouraged them to move quickly to put in place a package of strong reforms and substantial concrete financial support," said a statement from his office after the talks.
Athens protest
Consideration of Greece's request for emergency loans totalling 40bn euros ($53bn; £35bn) in the first year has been a focus of talks at the twice-yearly IMF meeting.
Nations using the euro would contribute 30bn euros with the rest coming from the IMF.
The terms of the loans have not been agreed, but Mr Strauss-Kahn has said the IMF will "move expeditiously" in response to Greece's appeal.
Mr Rehn said he thought the EU-IMF package could be completed by early May.
The funds are needed later that month when a large tranche of Greece's debt comes due for renewal.
German officials have said Berlin will do its bit.
Austerity measures have triggered protests in Greece
But there has been public opposition to funding a bail-out and Chancellor Angela Merkel said any aid would come with "very strict conditions", including a credible savings plan.
The Greek government has already taken austerity measures, including cutting government workers' pay, freezing pensions and raising taxes.
The cuts have proved unpopular, prompting strikes and demonstrations such as a march through Athens on Friday in which several thousand protesters took to the streets.
The government's cost of borrowing on international markets has spiralled, making it prohibitively expensive for Greece to borrow money from investors to service its debt.
Athens had hoped that just the promise of EU support, agreed last month, would be enough to reassure markets and help its recovery.
But Greece's problems have continued to hit investor confidence in the euro and other European economies.
Ahead of the meeting, the Group of 20 big economies said the world was emerging faster than expected from its deep recession.
G20 finance ministers said the pace of the recovery was largely due to the huge amounts of government money pumped into national economies.