Why Some Men Can't Take Their Eyes Off Actress, Myde Martins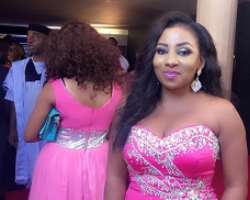 Yoruba actress, Myde Martins, is just a beauty that every man will want to behold and have as a wife at home because she covers the aspect of being a beautiful woman to a wife material, no wonder her husband values her so much.
Trailed with several rumours as a celebrity, the actress is not ready to give in to what people might say about her and her family as the live continues to wax stronger.
Despite being an ambassador to a property company, the actress has continued to play her role as a good wife as she has not allowed her stardom effect her family which has continued to put smiles on her face and made her look so young.
One will gladly say that Myde is truly enjoying her marital home and does not have any cause to regret which could possibly be the reason why some people are jealous of her.