Ibinabo Shame Haters with her Outfit (Photos)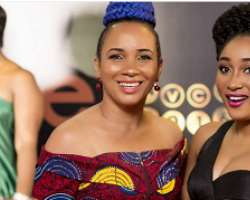 Nollywood actress, Ibinabo Fiberesima, looked sparkling in her outfit to the just concluded award event which took place over the weekend and she is proud flaunting it and how sweet she looks.
The actress who seems to have had some bad press for sometime dissed her haters by expressing how happy she is with herself and having fun each day that passes by.
"Haters, his is how I do it. (Laughs) after the reggae play the blues, I love me, I love my outfit, and I look and feel great," she wrote.
The actress was seen hopping around and greeting friends whom she has not seen in a while.