My Government will not probe Adesina's tenure - Ogbeh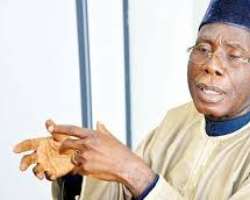 The Minister of Agriculture and Rural Development, Audu Ogbeh has debunked reports in some section of the media of a supposed intention of his ministry to probe the administration of the past Agric Minister, Akinwunmi Adesina.
Ogbeh was speaking during a press briefing where he disclosed the intention of the country to go into massive wheat production.
The Agric Minister insists that he remains proud of the achievement of the Past administration in Agriculture, insisting that there is no reason for any probe.
He noted that with the country moving into wheat production, the over 2 billion dollars spent on wheat importation can now be used to advance lives of Nigerians.
The minister maintains that there was need to improve local food production by 100 fold as that remains the only way to prevent the nation from impending hunger.
He stressed the need for all year round farming in order to boost the sector and improve the country's yield.
Ogbeh said: "We need to develop more dams and canals across the country so that agriculture becomes an all year round activity and not confined to the rainy season alone.
"Irrigation gives better yields because you can control the water supply level.
"We have a lot of dams across the country but are not put into proper use.
"If we continue with the current rate of one crop per year with very low mechanisation, Nigerians risk not attaining self-sufficiency in food production soon.
"We are also collaborating with the states to specialise in two crops they have comparative advantage in to improve productivity."
Ogbeh added that he would soon come out with a soil map of the country to enable farmers to know the type of fertiliser suitable for his/her farm and know how to apply same for good yield.
He stated that a lot of activities were ongoing to make agriculture attractive to youths and for them to see it as a business.
He said there were ongoing youth programmes at the International Institute of Tropical Agriculture and urged those interested in agriculture to make use of the opportunity.
He said: "We are working tirelessly to return Nigeria to where she was in the 60's and 70's by increasing extension services in every local government across the country."
The minister noted that the country had less than 300 tractors serving all the farmers, while countries like Europe and USA were completely mechanised.
He said from the statistics, there were 800 million hectares of farm land in the world with 400 million of the farm lands from Africa.
He, however, stated that the Federal Government was working hard to reposition the Agricultural Research Council of Nigeria and 19 research institutes across the country to return to their core mandate.