Dayo Babatunde, ex-model reflects:I enjoyed my days in the '80s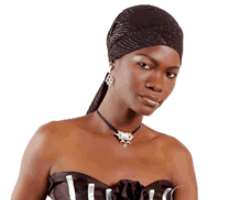 Ms. Dayo Babatunde was a frontline model in the 80's. The tall dark complexion lady now runs a fashion outfit with the label Dayo's Collection in Surulere, Lagos. She spoke with Daily Sun recently. Excerpts:
Introduction
"My name is Dayo Babatunde. I was born on March 7, 1964, that makes me 46 years old. My statistics are 34, 27, and 41. I have a son, he's 13 years old. I'm a single parent. I own Dayo's Collection, which has been in existence for the past 15 years. I was one of Nigerian top models in the 80's. I was groomed by Yemi Fawaz and encouraged by my father. I learnt a lot in fashion from Princess Abbah Folawiyo, who owns Labannella Fashions."
Modelling in the '80's
"In the 80's, modelling was very interesting. We were few, about 12 of us. In Nigeria then without us, there was no fashion show. We had international designers that came in once a while, we had regular designers here in Nigeria, like, Maufechi, Helen Prest the ex- queen, Labanella, Supreme Stitches now (Rose of Sharon). Dakova was one of the young designers then. He was quite creative.
We had lots of international programmes, kaleidoscopes of colours. They did designers competitions like the Daily Times Designer of the Year competition. We were the models the designers were really interested in. I am different because designers preferred to use light skinned models because of my height and I have the Grace Jones look, that makes me totally different from every other person. I walk very well on the runway that makes me different and gives me an advantage over other models because of my height and my figure, which I retain. Not different from the way I was 20 years ago."
Challenges then
"It had to do with designers. They preferred to use fair skinned models. They had complex then for such colours. That was the only challenge we had. We had international designers who came once a while to do shows with us. But we did not really have the opportunity to go out of the country to model as it is right now. It's a pity we had to struggle to get modeling recognized for the young models to benefit now, which is good.
"We had our regular shows. Almost every other week we had one fashion show or the other, calendar job, billboard, TV commercials. It was really very interesting and people appreciated us. Even when they looked down at models, people then were actually respecting the few of us who were on top. People came to fashion shows because of the models."
Modelling now
"Modelling in Nigeria has taken a new dimension. Thank God that some of us have really sacrificed for the young models now. We have lots of Nigerian models doing well for the country. Then modelling was just an interest. We didn't use it as profession because you couldn't make a living out of it. Right now, a lot of Nigerian models are living on modelling which is good. I personally will encourage any beautiful young talented girl who wants to model to do it.
"I was able to train models as well. I trainned Bisi Sowemimo who is doing well in South Africa now. I had trainned lots of models that are on and off. I'm happy I have put my ideas into some other people and they are doing well in the same field.
"I have a fashion house. I have done clothing for Silverbird's Most Beautiful Pageant; I have done fashion shows for NTA, Eko Hotel, French Women's Club, British Women's Club, Shell and embassies. My designs are mainly African. I appreciate what we have, I like our fabrics and I'm proud to be a Nigerian. I mostly work with our local fabrics because that is the only way we can portray our image abroad through our creativity and culture to the foreign world.
"My clients are TV stars, reputable women and nice gentlemen. I have clients from Lagos Ash Club, it's a running club patronised by expatriates and others. I have a lot of clientele from foreign network, which is good for me. I'm happy that I have been able to sell our culture to them through my designs.
"I'm working on my summer collections. I intend to send them to Norway. I'm partnering with a Nigerian designer living in Norway. His outfit is called American Classic. His name is Gboyega."
Relationship
"I'm single and I have a son. I have a long time relationship and I leave other things to God when it has to do with marriage."
Single parenting
"I'm working on a programme called Single Parenting. I'm a single parent, so I know what single parents are going through. I have decided on my own to do a TV talkshow on single parenting. Very soon, people will start hearing about what we have to offer. It's not easy what single parents are going through. I want to use this medium to correct issues and get organizations to support single parenting."
Secret of my physique
"I just thank God for my figure. I'm looking 20 years younger than my age, I'm 46. Anytime I'm walking on the streets, I have all these 20 years old kids trying to say excuse me. I'm so happy I look that young. I'm naturally slim, I have been like this for years. The only thing I do is that I exercise with a group of friends from the Ash Club. This we do every Monday. We run on the streets of Victoria Island.
"I eat everything eatable, I don't select food. I eat anytime. Sometimes if I have a lot of work, I eat late. If I'm very busy or stress up, I really don't eat. When I'm eating, I can eat anytime, I don't have a time table."
Dress sense
"Because of my structure, I love to wear long and body hugging outfits. Most of the time I'm dressed up in body hugs, they look better on me. It could be in Lycra, or Ankara but it has to be a body hug outfit. That is what I look better in."