STUDY TO PROBE MOBILE HEALTH RISK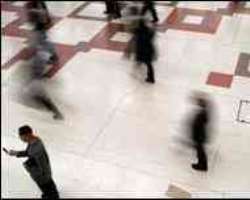 More than 70 million mobiles are in use in the UK alone
The world's largest study on the safety of using mobile phones has been launched by researchers in London.
The project will recruit 250,000 phone users across five different European countries including the UK.
It will last between 20 and 30 years and aims to provide definitive answers on the health impacts of mobile phones.
Research to date has shown no ill effect, but scientists say those studies may be too short to detect longer term cancers and other diseases.
The study is known as Cosmos – the cohort study on mobile communications.
It is being funded in the UK by the Mobile Telecommunications and Health Research programme, an independent body, for an initial five year period.
New uses
A member of that group, Professor Lawrie Challis, said the study was crucial.
"We still cannot rule out the possibility that mobile phone use causes cancer. The balance of evidence suggests that it does not, but we need to be sure."
The co-principal investigator of the study, Dr Mireille Toledano from Imperial College London, added that there are still "gaps in our knowledge, there are uncertainties".
She said: "The best thing we can do as a society is to start now to monitor the health of a large number of users over a long period of time – that way we can build up a valuable picture as to whether or not there are any links in the longer term."
She stressed the study was not just about brain cancer.
People were now using mobiles in many different ways including surfing the web, which means the phones are not always held against the head.
She added: "We will be looking at a range of different health outcomes, including other forms of cancers such as skin cancers and other brain disease such as neurodegenerative diseases.
"We will also be monitoring things like if there's a change in the frequency of symptoms such as headaches, tinnitus, depression or sleep disorders.
"These are things that people commonly report in association with their mobiles and these are things we are going to be following up on over time as well."
Bias
One of the greatest concerns about research to date is that it has usually depended on participants recalling how much they have used their phones.
Scientists say this can affect the outcome. The Cosmos project will be prospective – meaning that it will record actual phone use into the future.
Around 100,000 mobile phone users in the UK across different networks will be invited to take part.
Mobile phone users will also be recruited in Finland, Denmark, Sweden and the Netherlands.
Dr Toledano says the scientists will monitor mobile usage but not the numbers people call. And once participants fill in a questionnaire and give permission to access their records the project will operate very much in the background.
"It's really not intrusive," she said. "Most of it is very passively done, once they've given us their permission to sign up, we've really made it very easy and that's why we'd encourage people to take part."
The researchers will report their initial findings in five years.
They will monitor WIFI, cordless phones and the use of baby monitors by participants as well as mobiles, to obtain a complete picture of exposure to all types of electromagnetic radiation.
More than 70m phones are in use in the UK at present, out of a global total of 6bn.