INEC declares Mark winner of Benue South Senatorial re-run election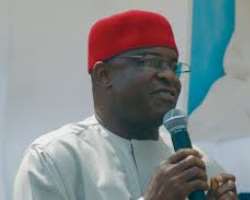 The candidate of the Peoples Democratic Party in the Benue South Senatorial District, David Mark, has been  declared victorious the Benue South Senatorial re-run election held on Saturday
The result declared by the Independent National Electoral Commission shows David Mark Senator polling a total of 84,192 votes, to beat Daniel Onjeh of the All Progressives Congress with 71,621 votes.
The returning Officer of the electoral body, Mr Ishaq Eneji, , said that Senator Mark met all the requirements during the conduct of the poll, having majority of the total vote cast.
However, the APC agent contested the validity of the result declared but Mark said his election reflected the will of the people.
The re-run election followed a Court of Appeal's judgment which nullified the election of Senator Mark as the Senator representing the zone in an earlier election held on March 28, 2015.
Senator Mark was the Senate President during the last administration of former President Goodluck Jonathan who was defeated in a comeback bid in the 2015 presidential election by President Muhammadu Buhari of the All Progressives Congress.
There are already jubilation, backslapping, and open guffaws, all for a hard-fought   electoral victory of the four-term senator.
Latest reports indicate that the  the former Senate President was getting set to address the press at his residence on the outcome the election, which many thought could be a major upset for the PDP top gun.
According to the reports,  David Mark polled the highest votes cast during the February 20 election.
Registered Voters: 522, 713 Accredited Voters: 165, 093 Total Vote cast: 159, 557 Cancelled Votes:  29, 273 Rejected Votes: 3, 744 APC: 71, 621 PDP: 84, 192