Sweep Oniru Day 2016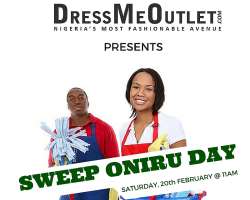 The Sweep Oniru Day taking place tomorrow Saturday, 20th October 2016. If you are already aware of this, then no need to read further.
Basically, the tour will start at The Palms, pass Oba Oniru's palace, Dressmeoutlet.com's office, Four Point Hotel, City of David, Sandfill, and ending back at The Palms Mall.
The Punch, Nigeria Bulletin and Businessday Lifestyle are a few of the confirmed Press to cover the trip.
Michael Izu Okeke
Digital Marketing & Analytics
Dress Me Outlet - www.dressmeoutlet.com
Nigeria's Most Fashionable Avenue
See it? Buy it! It won't last long on DMO
No 8 Dressmeoutlet Way • Oniru, Victoria Island • Lagos, Nigeria
[email protected] • 0803 - 809 - 5573
[email protected] – Customer Center – Same day replies
0809 - 101 - 5033 – Main Customer Service Line. Call or text us anytime!