I Am Calling On All Nigerians To Be Patriotic Says Bamanga Tukur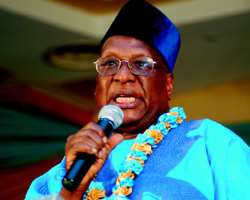 The Former People's Democratic party (PDP) national leader, Dr Bamanga Tukur call on all Nigerians to be more patriotic, sacrifice their interest and good will for the sake of the nation.
The Elder statesman regretted how bad the country's economy is degenerating into and that nothing seems to work well with Nation's system.
He however sympathises with the present generation as lamented that they grow up to see Nigeria as the only country that can give every thing to every body but the case is not the same now.
He said this when he played host to a group of Journalist at his House in Yola.
According to him every Nigerian should contribute to the economy growth of the Nation which is in a pitiful situation.
He enjoin all and sundry to pray for the peace and unity of the country which it has been distorted by Boko Haram attacks.
"I am calling on all Nigerians to be more patriotic for the country to have economy growth and always pray for the peace of the Nation as we are all aware of Boko Haram incessant attacks has destroyed our peace and unity in this country". Tukur said
He maintained that he retire from partisan politics as he can only advise when ever is necessary to the development of the Nation.
Bamanga who is now seen as one of the living nationalist whose wealth of experience can always be tapped to the development of the over all Nation.