Regina Askia's Daughter Already Taking After Her (photo)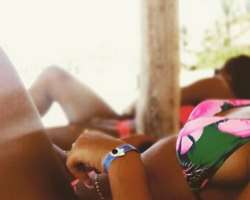 Every mother who is into a modest lucrative business or career would wish for her daughter to follow her path, to keep the ideas running.
Veteran Nollywood actress, Regina Askia's oldest daughter, Stephanie Hornecker, is already set to follow her mother's footsteps into the showbiz world.
The young, beautiful girl in her mid twenties was pictured in a sexy bikini while on holiday in Cuba. She's gradually turning into a model just like her mother did in the early 90's.
Regina Askia was one of the pretty faces that dominated the Nigerian movie industry, now globally known as Nollywood.