Rukky Sanda Delight Fans with Yoruba Attire (Photos)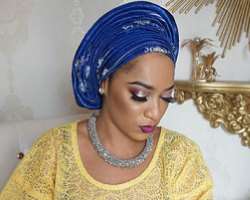 Many know Nollywood Actress, Rukky Sanda, for her revealing and skimpy outfits which have been given thumbs down by critiques but she could be planning to make changes soon.
Recently, the actress shared a picture of herself dressed in Native Yourba Attire, to prove a point that she also has native clothes in her wardrobe.
There is room for argument though, but Rukky, seems to have nailed this outfit.