See How Di'ja Used Excessive foam Bra for Photoshoot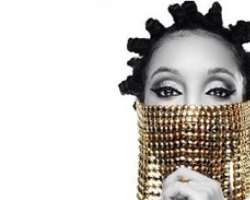 Recently, Mavin records singer, released some nice picture which makes her look like an Egyptian queen and for a singer like her who loves designing her body, the outfit was just a perfect match for her.
What caught the attention of some fashion lovers is the kind of bra she wore which brought out its shape to the fore.
Guys may not know how to detect excessive foam bra from a girls dress. Foam are usually put to make a tiny mammary gland look big, so the smaller you milk factory, the bigger the foam will be.
It should be noted that when you try to wear tight dress or top, the foam demarcation will show in your dress. If actually she was a babe that has enough cow milk you will see enough popping over the demarcation line.