TY Bello Finally Meets With Bread Seller, Helps to Change Her Life (photos)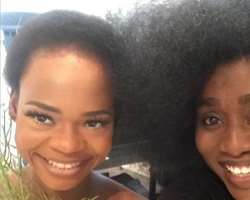 When people pray that may one meet unmerited favour in their lives it is pertinent to say Amen to such prayers as it was the case of a bread seller who bumped into TY Bello's photoshoot some days back.
TY Bello was in a particular area where she was taking some photographs with a client and the bread seller innocently walked into the photoshoot which in turn added glamour to the job.
Thereafter, the popular photographer has been going around looking for the this lady whom many had given thumps up for her beauty and model physic which is presumed could take her places.
As luck will have it, the seller was met after a close tap was placed on her and in sharing her story with TY Bello, she disclosed that she is 27 years of age and a mother of two who needed to struggle to make ends meet for herself and the family.