Georgina Onuoha Comes for Fan Who Came to Gossip to Her About her Ex-hubby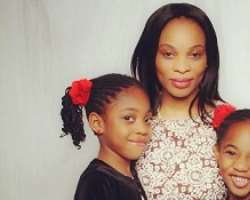 Nollywood actress, Georgina Onuoha, has over time picked the pieces of her life after her failed marriage and moved on, caring for her two lovely daughters and she has been happy with her hard work.
Recently, a fan had brought to her notice that she spotted her ex-husband with another lady and this got the actress infuriated as she did not only exposed the lady who gave her the scoop but told her the criteria to meet before coming to talk to her.
The actress pointed that one of the problem women face is that there fellow women try to bring them down instead of showing support to each other.
She further defended her ex-husband by telling the gossip fan that he will not even wish to have her because he is a handsome dude.
In her words, "Actually you can have my ex if you are that concern about him. But you know what? He won't even hire you as a steward.. Want to know why? You don't meet the criteria. He is a fine man and goes only for the best. So peace Felicia! Bye girl."
Georgina gave criteria for one to meet before having the opportunity to insult her; "You must be prettier than I am. I mean physically and character wise. Achieve one third of what I have achieved in my short life. You must at least achieve fame and fortune on your own terms not transferred name or wealth by parents. At least a Masters degree with a first class. You must be married for the past 10 years with children to show for it and scars to show for it as well. If you do not meet all this before coming on my wall to talk about my family. Then you must be a lunatic."