Majek Fashek, Tuface in studio for collabo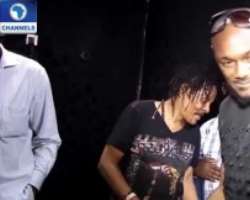 Music icon, Majek Fashek, is working hard at his resurgence in the Nigerian music industry, with various live performances and now new music projects, one of which is the collaboration with 'African Queen' crooner, Tuface (2Baba).
At different occasions, both atistes have expressed their special admiration for each other and have drreamt of working together.
Tu Baba had told Channels TV Entertainment about how he had been a fan of the raggae legend and had looked forward to remaking one of his hits.
Majek Fashek also told us, 'For me to gain the confidence of young musicians like Davido, Tu Baba, Wizkid, Terry G, Olamide and Don Jazzy, I have to prove my sound first, then I can work with them later on.'
Finally, the two legends of two different generations hooked up to cook their first joint together.
Majek, popularly known as the Rainmaker is also the producer of the new collaboration, a role he has not taken since producing for the Mandators and Ras Kimono. He says he is creating a new vibe.
Tu Baba did not hide his excitement at seeing his dream come true.
The song is titled Holy Spirit. - Channels.