Ugwuanyi descends on illegal road blocks in Enugu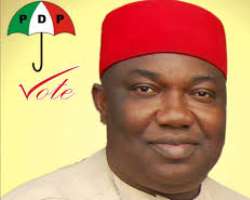 Governor Ifeanyi Ugwuanyi of Enugu State has appealed to transporters and traders blocking the road along the Holy Ghost Cathedral area to desist from causing traffic jam in that area or be ready to face the wrath of the law.The appeal came as he made an on-the-spot visit to the area.
Ugwuanyi noted that he had received ceaseless reports of road blockade in the area and its attendant cause of delays on emergency cases especially attending to patients of Mother of Christ Hospital in the area.
He further ordered that the "u-turn" spot in the area which also contributes to road congestions be put out of use to enable patients' access medical treatment, especially during emergency in the hospital.
In a brief remark, a staff of the hospital Rev. Sister Ignacia Okafor commended Governor Ugwuanyi for his method of governance in the state, describing it as government with human face.
According to her, often pregnant women deliver along the road on their way to the hospital because of blockade of the road to the hospital.
She regretted that transporters have refused to settle at designated park in the area but choose to park on the road.