INDIA OPPOSITION PARTY PROTESTS AGAINST HIGH FOOD PRICES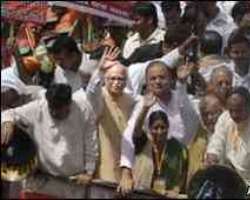 The BJP's LK Advani (centre) was at the forefront of the protests
Thousands of people have gathered in the Indian capital, Delhi, to take part in an opposition rally to protest against rising food prices.
The rally by the main opposition Bharatiya Janata Party (BJP) has led to massive traffic jams in the city.
BJP leaders say an estimated 300,000 people will attend a meeting at the Ramlila grounds and then thousands of activists will march to parliament.
Food prices in India have risen by as much as 20% over the past year.
BJP MPs boycotted parliament on Wednesday to join the protest.
'Wrong policies'
Senior party leaders, including LK Advani, Sushma Swaraj, Arun Jaitley, Rajnath Singh and BJP chief Nitin Gadkari, are due to address the rally.
India is grappling with rising food prices
Sushma Swaraj said hundreds of thousands of people had come from all over the country to take part in the protest.
"Price rise is not an outcome of any natural calamity, it is the outcome of the wrong policies of the government," Ms Swaraj said.
The rally has led to huge traffic jams in many parts of the city.
Thousands of policemen have been deployed to ensure the rally passes off smoothly.
Farm produce has fallen following droughts and floods, which has led to rising prices.
The cost of pulses, milk, wheat, rice and vegetables has gone up sharply. Finance Minister Pranab Mukherjee has said food prices are an "area of concern".
Overall annual inflation has also risen sharply over the past few months, from 0.5% in September to 9.9% in March, its highest level in 17 months.
On Tuesday, India's central bank raised key interest rates by a quarter of a percentage point in an attempt to curb inflation. The rise was the second in a month.