Checkout Asa's Look After Tying Gele for Wedding (Photos)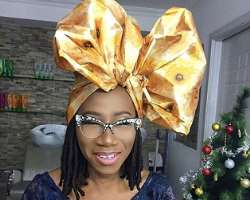 Singer, Asa, is not just blessed with good vocal dexterity but with good looks and a smile that will always attract any suitor knocking on her door steps.
Always seen dressing very simple both on and off stage, the singer is rarely seen on native attire until recently she decided to add some fashion flavour to her style.
She was seen dressed for an event recently that aside just dressing in the native attire, she had to tire an head tie known as 'Gele' in Yoruba language for the first time.
She admitted that having the head tie conform was not easy especially being the first time she will have such on.
In her words, "It was such a struggle getting this gele to conform but shout out to Janet Nwose, who made me do it not too bad for Asa's first time wearing Gele."