Election Violence Escalates And Uganda's Dictator, Museveni, Ducks Presidential Debate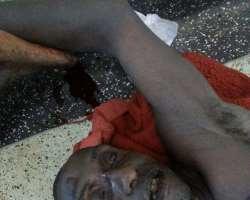 The photo in question. Is this really the photo of a dead Aine as his sister claims or not? When over a dozen semi-nude bodies washed up on the shores of Lake Victoria shortly after Christmas many Ugandans didn't believe it was a coincidence.Welcome to election season Ugandan style.
Few Ugandans believe the dead were folks who drank too much while out celebrating the holidays, as the government claims.
Lake-side resort owners told The Daily Monitor, the respected independent newspaper, that the waters near their facilities were monitored, including by patrols on speed boats. They couldn't have missed patrons drowning; let alone mass drownings.
As The Monitor reports, "Beach managers said they believe bodies could have been brought from different areas and dumped near their beaches or drifted with the lake waves from afar."
What's more, the dead were all males. Ugandans typically celebrate Christmas and other festive occasions as couples, or as mixed groups of males and females. The government also claimed it found several identification cards and they included some Muslim names. Muslims celebrating Christmas?
Many Ugandans believe the bodies may have been brought from elsewhere and dumped on the beaches.
It comes as violence has escalated during the ongoing campaigns for the February 18 presidential vote.
The country's dictator of 30 years, Gen. Yoweri Museveni, is locked in a tight race against two formidable challengers, Dr. Kizza Besigye of the Forum for Democratic Change (FDC) and Amama Mbabazi, of Go Forward. Both were once his comrades and colleagues in government; they now denounce him as a tyrant.
Besigye broke with Museveni decades ago and has endured vicious beatings and imprisonment; Mbabazi parted two years ago.
Although there are no reliable polls, judging by the massive turnouts at the oppositions' campaign rallies, the dictator is in the run of his life. Ugandans are also witnessing something never seen before. Ordinary citizens attending Dr. Besigye's rallies pull hard-earned money from their pockets for the challenger to help fund his campaign.
Gen. Museveni, on the other hand, raids the national treasury and distributes cash at his rallies; the only way for him to attract significant crowds after running the country for 30 years. Hopefully Ugandans will fill their stomachs but vote wisely.
Dr. Besigye has exposed the Museveni regime's rot and the collapse of essential services such as health care delivery. When reporters accompanied Besigye with TV cameras during his tours of hospitals, Ugandans, including dictator Museveni, saw filthy wards with people sleeping on floors, with no functioning toilets, with blood-stained maternity ward beds, and, with no medicines.
Gen. Museveni then ordered his hated police chief Gen. Kale Kayihura to prevent any future hospital visits. Before Dr. Besigye arrives in any given town for a campaign event, dozens of police officers now secure the hospital gates to prevent the challenger from visiting.
One recent incident indicates how things can easily spill out of control and invite total mayhem. When Dr. Besigye and his supporters tried to walk pass a police gantlet to visit a camp for impoverished displaced people Gen. Kayihura's men opened fire with live rounds. Miraculously, Dr. Besigye wasn't killed. Some of his campaign aides were treated to gunshot wounds. Rather than cow his supporters, turnout at subsequent rallies swelled.
The displaced people Besigye visited had their land taken by the Museveni regime and turned into an animal/game reserves. After the police attacked Besigye's supporters the ruling party's regional chief vowed that he would switch allegiance and deliver voters to Dr. Besigye's party in next month's vote.
Yet, the game-changer in this 2016 election may be the presidential candidacy of Amama Mbabazi. Until 2014 he was Gen. Museveni's right hand man as prime minister and Secretary General of the ruling National Resistance Movement (NRM) party.
Finally, he too tired of one-man rule by Gen. Museveni.
When Mbabazi intimated two years ago that he was thinking of running for president and that he hoped Museveni, his childhood friend and political partner of decades, would retire, the general took of the gloves. Mbabazi was arrested when he tried to launch a nationwide tour. This invited a rare rebuke from the U.S. State Department which otherwise traditionally had been uncritical of the dictator.
Throughout last year Mbabazi's supporters, especially the youth, continued to be beaten and arrested by the police, merely for plastering his campaign posters on trees or walls.
Mbabazi's candidacy presents a unique challenge for Museveni. As the ruling party's chief mobilizer he built an extensive patronage network throughout the country. An NRM split would benefit the opposition tremendously. Gen. Museveni could conceivably lose outright in the first round.
His chances of retaining power diminish should no candidate get over 50% of the vote. In a runoff, the combined opposition's vote would likely line up behind one candidate against Gen. Museveni, assuming he's one of the top two.
Gen. Museveni has another ace-card.
The electoral commission serves as his personal referee. Its members and chairman, Badru Kiggundu, are all hand-picked by the dictator.
He could get away with massive rigging if the international community gives him a pass as with the past elections.
Ugandans are hoping countries that have backed the regime in the past, such as the United States -- Uganda has deployed thousands of troops to fight al-Shabab in Somalia -- may take a tougher stance this time, especially given the levels of regime-sponsored election violence.
After all, last year, Ugandans knew one of the rulers President Obama was referring to was Gen. Museveni when, while addressing the African Union (AU) in Ethiopia, he decried leaders who "cling to power" after removing presidential term limits; Gen. Museveni lifted limits in Uganda in 2005.
Still, even with the advantage of state resources, Gen. Museveni is clearly worried.
Violence has escalated; police chief Gen. Kayihura's goons' ranks have swelled. He trained hundreds of thousands of militia members -- euphemistically called "Crime Preventers." At a recent Mbabazi campaign rally when youth wearing Museveni T-shirts distributed to them by officials -- possibly some of the "Crime Preventers" -- tried to disrupt the event, there were running battles between the two sides.
The ruling party was faulted for the violence since campaign laws bar one side from holding an event where an opponent has an officially scheduled rally, as Mbabazi did.
Immediately after the incident Mbabazi called for a de-escalation of tensions. Gen. Museveni, instead of calling on his supporters not to disrupt his challengers' rallies, held a press conference and in typical crude language vowed revenge.
"They will pay very dearly. You don't attack, you have no right even to point a finger at me. Am here, I am a Ugandan, I am a free person - you come and attack me like that," he said, referring to the fact that some of Mbabazi's supporters routed his own followers in the street clash.
He added, referring to himself, "If you go and put your finger in the anus of a leopard. You are in trouble, you are in trouble."
Shortly thereafter, the police started rounding up Mbabazi's supporters. Police Chief Gen. Kayihura held up a "Wanted" poster of one of Mbabazi's chief mobilizers and security leader, Chris Aine, and even offered a ransom. However, by the time of the purported "ransom," Aine was already in government custody, according to eye-witnesses who told The Daily Monitor they saw him being bundled into a police car on December 20.
The "ransom" might have been a ruse by Kayihura to deflect responsibility by police for what ultimately happened to Aine.
Then last week a Ugandan tabloid published a horrific photo that Aine's sister, Ritah Babirye Aine, claims showed the corpse of her brother, The Daily Monitor reported. There is a deep scar splitting the body photographed, showing that an apparent post mortem had been performed.The Ugandan police have yet to officially comment on Aine's whereabouts or deny that the photo is of his corpse. Instead, the editors of the tabloid that published the photo were arrested for "slander."
Aine's family is demanding that either the government produce him alive, or surrender his body.
The Uganda police insist regardless of the corpse photographed, Aine is still officially "Wanted" in connection with the fight at the Mbabazi campaign rally and therefore he's considered "missing" until he surrenders or apprehended.
According to The Daily Monitor article, by the time Gen. Kayihura issued the so-called "bounty," Aine was already in police custody and his name actually appeared together with that of a co-accused on a police charge-sheet. Aine's name was later deleted while that of his co-defendant who remains in detention was left on the charge-sheet.
So this is what it's come to in Museveni's Uganda after 30 years.
Now that he's feeling the heat -- a tight race, and perhaps fearful of possible questions about the election violence, the filthy hospitals, and Aine's fate -- the dictator is getting cold feet about a debate he'd committed to.
On Friday January 15, Uganda was to hold its first ever presidential debate; it was to be televised and live streamed globally. (In November I had debated Gen. Museveni's adviser on Voice of America and dared him to have his boss debate his challengers).
Gen. Museveni now claims he may be "too busy" campaigning on Friday and that a campaign aide may fill in for him in the debate.
Imagine if a sitting American incumbent suggested that an aide take his part in a nationally televised presidential debate?
The "leopard" who recently objected to an object up his rear-end is finally exposed as a mere kitten.
Who can blame him? After all, Gen. Kayihura's goons wouldn't be able to help him on that stage with the world watching.
The emperor realizes he's finally naked.
The writer the Editor - in- Chief of the New York-based leading investigative newspaper, The Black Star News .