Lifting Of Forex Restriction: Saraki Dedicates Praise To SME Owners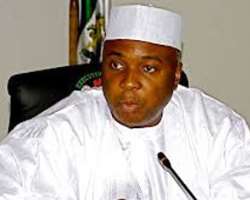 Less than a week ago, the Senate President, Dr. Abubakar Bukola Saraki, broadcasted via his Twitter account that he had requested from the CBN governor, Godwin Emefiele, to look broadly into reviewing the restrictions in the Forex policy that has placed, according to Saraki, a huge discomfort on millions of Nigerians, particularly the SME owners. "After series of engagements with SME owners who are affected by the current CBN policy on Forex, the Senate has advised CBN to review" Saraki said.
Coincidentally, this mind-rubbing between the Senate President and the CBN governor happened on the eve of the visit of the International Monetary Fund (IMF) Team, led by its Managing Director, Madame Lagarde Christine to the National Assembly in Abuja.
In the meeting, according to reports, Saraki emphasised on the Forex issue while discussing other burning economic matters Nigeria is encountering at present with Lagarde of the IMF. The two heads met at same horizon as the IMF Director reasoned along with the Senate while she canvassed that the restriction on foreign exchange should only be a temporary economic step.
It is pertinent to recall that Nigerians, particularly those whose business is adversely affected by the Forex policy, launched profuse Twitter engagements with the Senate President on the issue. The vast majority of the citizens, conversing directly with their Senate President, appealed to Saraki to ensure that the policy is reviewed.
Earlier today, Jan 11 2016, the Central Bank eventually announced that it had lifted the restrictions on Forex deposit. Following this euphoric moment; Nigerians online came again at Saraki with bunch of accolades for the latest development on the Forex issue. Looking at how the tweets were coming, one would see that it was a great victory.
In a tweet response however, the President of the Senate had refused to arrogate the encomium to himself when he quickly directed it to the Nigerian masses in SME realm. Replying to a tweet by Tolu Ogunlesi (@toluogunlesi), Saraki maintained that: "the credit I believe should go to the business men and women out there who urgently need Forex to stay afloat."
Saraki further tweeted that "Review of forex restriction by CBN, good step in right direction. Let's all work to see that the policy works and not abused."