Of Bayelsa Election & Good Governance: PDP Holds The Ace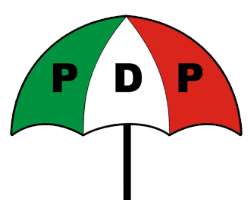 Aristotle the teacher of Alexander –The-Great asserted "The legislator should direct his attention above all to the education of youth; for the neglect of education does harm to the constitution. The citizen should be molded to suit the form of government under which he lives. For each government has a peculiar character which originally formed and which continues to preserve it. The character of democracy creates democracy, and the character of oligarchy creates oligarchy."
A political party is a group of dedicated people who come together to win elections, operate the government, and determine public policy. There are five main functions that political parties have. Recruiting candidates for public office is one of the most important functions that political parties have. An important goal of political parties is to gain control of the government, and to do this, parties must work to recruit candidates for all elected offices.
For example, if a state had an opening for governor, each political party would try and find a person they could support to run for that position. Political parties also actively try to gather volunteers to help register voters as well as organize and run the Election Day voting. The hope is that the more people that are involved in helping with the election, the more interest there will be in the outcome, which should increase voter turnout. The ultimate goal is to get the person the party supports to win an election.
While political parties do end up endorsing or supporting individual candidates, they do so because those people share very similar ideals and political positions of the entire party. Thus, another function of political parties is to present alternative policies to the electorate, called their political platform.
A political platform is the ideals and positions a political party has. Thus, we often learn of the ideals a political party has from the members that support it. People participate in the electoral process with certain assumptions and expectations. It is these assumptions and expectations that decide the course of political actions of the people including their voting behavior and choice of parties. Thus, the outcome of the inconclusive December 5/6 elections in the state was predicated on voter's analysis of the two major parties and their flag bearers on the bases of:
a. Infrastructural Development; and
b. Proactive Measures Taking Towards Maintaining Peace in the state.
Infrastructural Development Sulivan and Sheffrin, (2003), defines infrastructure as the basic physical and organisational structures needed for the operation of a society like industries, buildings, roads, bridges, health services, governance and so on. It is the enterprise or the products, services and facilities necessary for an economy to function. It is the means of achieving an objective or set of objectives and also includes the objectives. It is an important term for judging a country, region or state's and individual's developments/status. Infrastructure development is the basis of measuring the performance of democratic leaders and it is the foundation of good democratic governance. If this is true, then the Dickson Restoration administration on the other hand is believed to have fared more in the development index than any other in the history of Bayelsa state.
From the beautiful fly over to roads, schools to hospitals and bridges – Dickson's footprints are everywhere. Not to mention the airport and deep sea port projects, other social amenities as well as welfare programs. Suffice it to say that from all indications backed with statistics, shows that no government from the inception of the state in 1996 has delivered on critical infrastructure which Bayelsans needs dearly than Dickson. Analysts also hold the view that such massive infrastructural development as we have witness so far undoubtedly translates to job creation and opportunities which the resilient and hardworking Bayelsans yearn for.
Though there are some who believe that Timipre Sylva built internal roads which are a critical expectation of a broad spectrum of Bayelsans. Many are however, quick to dismiss this thought, holding that the so called internal roads were to say the least, a sham. It is believed that they were substandard and conduit pipes for the draining of the state's merger resources. To them, if Sylva could declare the road leading to his native home - Nembe "none viable", then, no other road would have been important to him. PROACTIVE MEASURES TAKING TOWARDS MAINTAINING PEACE IN THE STATE. It is often said, and rightly so, that there can be no meaningful development without peace. Peace is the state of being free form any kind of human conflict and violence. All the activities of the country run smoothly in the situation of peace.
Peace is the sign of development and prosperity. Human Rights are not violated. People can walk freely from one place to another without having any fear in their mind. They can do their business without any obstruction. People respect each other rights. They are also committed to fulfilling their duty toward their society. Rule and order is respect by all. People can raise their living standards by working hard. Peace brings happiness among people. They are involved in development activities. Peace helps to promotes human rights, democratic norms and value. Peace helps to create the feeling of love, trust, tolerance, and brotherhood among people.
Development process can't go ahead without peace and harmony. Peace is the mother of civilization and war is the demon of destruction. Civilization and development cannot progress if there is no peace in the country. Literature flourishes only in the time of peace. It is also the case with philosophy, science, industry and art. In our daily lives also we find interest and pleasure in doing work in times of peace.
In times of war its energy and resource are all employed and defend. It is on this index that many see Sylva, the APC flag bearer as violence personified. It is believed that Sylva's Security outfit, Famuo Tamgbei, murdered many innocent Bayelsans in the five years of his reign. A fact, Sylva accedes to. Governor Dickson's Operation Doo Apko on the other hand has continued to receive accolades from within and outside the state. Dickson has been honoured by the prestigious Security Watch and other security organizations for making Bayelsa the most peaceful state in the Federation.
According to Priyavrat Thareja "The Good Governance is implied by an order of related party workers (group of people), with commitment of highest order, in order to set up a system of governance, which allows a (newer) state of organized functioning where rules are obeyed and people do what they are expected to do. Such an order (arrangement) is an utmost requirement for productivity.
Today, people now go about their businesses around the state without fear of molestation. Night life, which was lost in the ill-fated Sylva's era is back. And people now openly criticize government on areas they disagree with government. It is a combination of these indices that gave Dickson six of the sevenLGA's in the December 5/6 elections. These results were an expression of Bayelsans confidence in Dickson and the PDP. As we march towards January 9, all projections seem to be leaning toward Dickson and the PDP. Analysts and political pundits' in the state too are of the view that the PDP, so far leading with over 33, 000 votes, holds the ace in the Bayelsa election.
Pix shows a state-of-the-art medical facility built by Governor Seriake Dickson of Bayelsa State. The job was done through direct labour for efficiency.
Disclaimer:

"The views/contents expressed in this article are the sole responsibility of the author(s) and do not necessarily reflect those of The Nigerian Voice. The Nigerian Voice will not be responsible or liable for any inaccurate or incorrect statements contained in this article."