Magu: Killing Corruption With The Law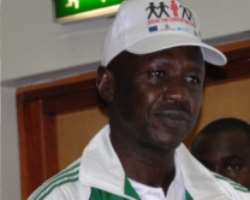 We are a democratic nation, our laws are written, documented and above all Nigeria is signatory to international conventions on human rights. In trying to kill corruption, we must not kill the constitution or destroy enabling laws in a way that they are no longer suitable for fighting graft in the foreseeable future. Nigeria must also not come out of the fight branded as a dictatorial parochial state on account of laws being applied selectively.
Nothing has ever been wrong with our laws in terms of their capacity to curb corruption. What has been wrong and is still wrong is the selective and vindictive approach to how the laws are used in the anti-corruption war. The exercise is carried out in manners suggestive of differentiation of corruption issues along political and class divides.
The new helmsman of the Economic and Financial Crimes Commission (EFCC), Mr Ibrahim Magu, whose appointment was hailed by all Nigerians, must thus do everything possible to break away from the ugly past. Magu is a man seen by many as departure from his immediate predecessor, Ibrahim Lamorde, whose understanding of fighting corruption was to hound perceived government opponents to the gallows while some sacred cows are allowed to prance around on the street with stolen funds.
The implication of running the anti-graft campaign as it was done under Lamorde is self-evident. The EFCC ended up not being able to deliver itself from the same issues it was set up to fight. A supposed anti-corruption tsar became the key suspect in a recovery diversion scam that topped N1 trillion thereby earning himself a dishonourable exit from the commission.
It would seem dishonourable exit is the norm with the commission anyway. From its pioneer chairman, Mallam Nuhu Ribadu to Lamorde's predecessor, Mrs Farida Waziri, all former bosses became tales of the hunter becoming the quarry simply on account of the selectiveness of their activities while in office. Curiously, these EFCC helmsmen had a lot of media buzz while in office. Each had series of widely celebrated arrests with detentions over high profile corruption cases. The true test, however, was that while several former public officers were arrested, the cases against them in court were usually protracted and seldom led to convictions hence the conclusion that such hype and activities could have only been politically motivated.
This unpleasant trend is therefore an impetus for Magu to drive the EFCC under his watch to be dispassionate by looking beyond cases with high political capital. Apparently this is not the present state of affairs. Attention is currently focused on the armgate as if it is only suspected case of corruption in the land.
As a pensioner I would like the commission to give some of its attention to other issues like the Pension Fraud. It may sound fatalistic but I would like to see punishment meted out to the real people behind the brazen theft of pension funds before God calls me from this earth to be with Jesus Christ. Considering my age, I hope convictions over the Pension Fraud happens soon. The perpetrators must be brought to book.
My call to the EFCC to bring indicted persons to book is equally matched by an appeal to exonerate anyone that is not indicted or found guilty. For instance, the former Chairman of the Pensions Reform task Team, Abdulrasheed Maina remains a fugitive even when he had volunteered the identities and roles of those who defrauded the nation's pensioners. Information he has so far supplied suggested that he was driven to becoming a fugitive simply because he refused playing ball, he even named persons that demanded bribes from him.
If Maina is a victim of a higher power play, Magu must then be wary of returning the former chairman of the Pension Reform Task Team to the list of cases deemed by Nigerians to be politically motivated. This will not do the reputation of EFCC any good since there is already widespread accusation of witch hunt around its recent activities.An option to explore is for the Magu led EFCC to partner with Maina as a strategy to properly unravel the real culprits in the pension scam saga. The assumption of this suggestion is that keeping Maina on the run is not furthering the work of the commission, he would be far more valuable as a state witness to confront those he has named as the real culprits since they currently deny wrongdoing.
This is a strategy that the EFCC can widely apply as it seeks to bring persons involved in corruption in other sectors to book. Once it does this, it can improve on its conviction record since its achievements has more arrests and detention than actual convictions. It is convictions that are needed as deterrence against corruption and not arrests.
In conclusion, Nigerians are in high spirit that Magu's ascension would tame corruption and quicken its end and it is already glaring that this is not an impossible task given the energy and sense of purpose so far demonstrated. As we make this appreciation of the efforts being made, we must bear in mind that politically and selfishly instigated fight against corruption is the worst form of corruption, a sin against God and declaration of war against humanity. As Magu settles down to work for the wellbeing of the nation, may God help him to deliver Nigeria from corruption in Jesus' name.
Written by Abrahams Akwu.
Disclaimer:

"The views/contents expressed in this article are the sole responsibility of the author(s) and do not necessarily reflect those of The Nigerian Voice. The Nigerian Voice will not be responsible or liable for any inaccurate or incorrect statements contained in this article."