Minister Commends Borno State Governor's Support For Boko Haram Victims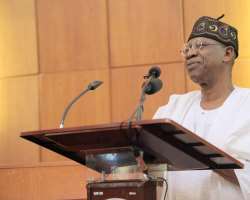 ALHAJI LAI MOHAMMED, the country's new minister for information and culture was near to tears when he visited Bama internally displaced persons' camp in Borno state on Sunday 6th of December 2015 and saw the plight, suffering and hardship of the people caused by invasion and attack of Boko Haram terrorist group.
He commended the state governor Alhaji K. Shettima for government care and support for surviving victims of the insurgency war in the state to reduce number of deaths and suffering of the people. He however called on all Nigerians to support government efforts to make live meaningful and worth living for all internally displaced persons in the country particularly the vulnerable young children, babies, nursing mothers and the aged amongst them.
He praised the efforts of the military-officers and all men and women in the war affected area of the state in their gallant fight against insurgency and terrorist activities in Nigeria. He observed that with the rate at which the military is fighting the war, the insurgency activities of Boko Haram in Nigeria will be subdued even before the target date given by the movement.
. President Buhari had earlier in his augural speech in May 2015, promised to quickly end activities of terrorist group in Nigeria to forestall peace and security for growth and economic development in the country.
Human rights and advocacy groups in the country have called on all peace loving Nigerians to be prayerful, patience, resilient in their faith and hope in the new administration of President Muhammadu Buhari. Now that the new ministers have been appointed and sworn in, Nigerians are admonished to give the All Progressive Congress (APC) party led government time to work assiduously for the success of "the change agenda programme" of the administration of President Buhari to meet the aspiration and hope of all Nigerians.