VOLCANIC ASH SPREADS MORE TRAVEL MISERY ACROSS EUROPE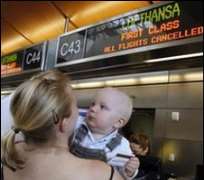 An estimated three-quarters of flights were cancelled on Saturday. About 20 countries closed their airspace – some have extended flight bans into Monday.
Disruption is now said to be greater than that after 9/11 and the volcanic activity shows no sign of abating.
Two airlines say they have successfully carried out test flights.
The Netherlands' KLM said one of its planes, a Boeing 737, had reached its maximum operating altitude of about 13km in the skies over the Netherlands, and there had been no problems during the flight.
The aircraft and its engines were being inspected for possible damage. After the results of that technical inspection the airline hopes to get permission from the aviation authorities to start up operations again.
Germany's Lufthansa said it had flown several planes to Frankfurt from Munich.
"All airplanes have been inspected on arrival in Frankfurt but there was no damage to the cockpit windows or fuselage and no impact on the engines," a spokesman said.
However, both Dutch and German air space remain closed until at least 1200 and 1800 GMT respectively.
And weather experts say wind patterns mean the cloud is not likely to move far until later in the week.
The impact is likely to exceed the airspace shutdown after the 11 September 2001 attacks, the International Civil Aviation Organisation said.
Airline losses
The International Air Transport Association (Iata) predicted little or no improvement on Sunday.
Eurocontrol, which co-ordinates air traffic control in 38 nations, said some 17,000 flights were cancelled across Europe on Saturday, from a total of 22,000 on a normal day.
All but 55 of 337 scheduled flights by US carriers to and from Europe were also cancelled.
Airlines are estimated to be losing some £130m ($200m) a day in an unprecedented shutdown of commercial air travel.
BBC business editor Robert Peston said the disruption risked becoming a "major business and economic disaster" with several European airlines already facing financial difficulties.
"If [the disruption] goes on many days longer, a number of European airlines will run into financial difficulties and may need bailing out by governments – or so I am told by senior airline figures," our correspondent said.
Long way home
Since Thursday, countries across northern and central Europe have either closed airspace or shut key airports as the ash – a mixture of glass, sand and rock particles – can seriously damage aircraft engines.
Britain has extended a ban on most flights in its airspace until at least 1800 GMT Sunday, air authorities have said.
In northern France and northern Italy, airports are to remain shut until at least Monday.
Unable to catch flights, commuters across northern Europe have sought other means of transport, packing out trains, buses and ferries.
The Eurostar cross-channel rail service said it had never seen so many passengers on one day and the trains were fully booked until Monday.
The large no-fly zone also means that some world leaders, including US President Barack Obama, will not be attending the funeral of the Polish president on Sunday.
British health officials said any effects of the ash on people with existing respiratory conditions were "likely to be short term".
Southern Iceland's Eyjafjallajoekull volcano began erupting for the second time in a month on Wednesday, sending a plume of ash 8.5km (5.3 miles) high into the air.
Icelandic geologist Magnus Tumi Gudmundsson told the Associated Press news agency: "It's the magma mixing with the water that creates the explosivity. Unfortunately, there doesn't seem to be an end in sight."
Iceland lies on the Mid-Atlantic Ridge, the highly volatile boundary between the Eurasian and North American continental plates.