HARVEST OF MERCY, AS GOAT, CHICKEN THIEVES REGAIN FREEDOM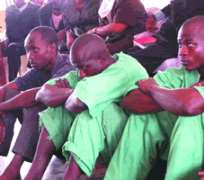 When in April 2009, Olaniyi Jimoh was arrested for stealing a goat at Ilesa, Osun State, little did he know that a traumatic, never-to-be forgotten phase of his life was about to unfold.
His plea of innocence fell on deaf ears as the police took him to the Ijamo Police Station. He was charged to court and before long, he became an inmate of the Ilesa Prison. Between April 22, 2009 when he entered the maximum prison and April 6, 2010, he was taken to court nine times.
For Falolu Segun, a poultry attendant at Ara, Egbedore local government area of Osun State, the journey 'behind the wall' started in June 2009. According to him, the owner of the poultry was owing him a month's salary of N12,000 and after waiting for almost a month to be paid, he decided to help himself.
'I needed money badly as my wife was about to give birth to our baby. All my pleas to my boss yielded no fruit. I later decided to sell some fowls that would be equivalent to my money. This I did but I was arrested for stealing. I was taken to court and from there to prison.'' He was at the Ilesa prison from July 20, 2009 to April 6, 2010 and was yet to set his eyes on the child delivered by his wife, three months after his incarceration.
Like Segun, Afolabi Wale, 21, was arraigned at the Magistrate's Court, Ile-Ife, for stealing four fowls and had been in the Ile-Ife prison since January 26, 2010.
Another freed inmate, Alao Ismaila, said he became a prison guest when he picked N3,000 found beside a keg of palm oil at Ile-Ife and was accused of stealing. These were among the 12 persons that regained their freedom when the Chief Judge of Osun State, Justice Fasasi Ogunsola, and members of the state's Speedy Administration of Justice Committee visited the two prisons as part of efforts to reduce the number of awaiting trial cases in the state.
Other members of the team included the State Director of Public Prosecution (DPP), Mrs A.A. Adewemimo, High Court Deputy. Registrar, Mr Lawrence Orojo, some senior Magistrates, state Chairman of the Legal Aid Council, Mr Samuel Banjo, Head, Police Legal Department, Adekunle Ayuba among others.
Ogunsola, however, expressed worry over the increasing number of inmates awaiting trial, saying that the committee was set up  to accelerate the dispensation of justice by ensuring those involved in administration of justice performed their duties as expected under the law.
The journey to freedom for the 'lucky' inmates started on that fateful day at the Ilesa prison. The awaiting trial inmates, numbering 321, had converged in front of the Chapel of Mercy Hall, expectantly waiting for the messiah. Many of them held tightly to either the Quran or Bible, rosary or other spiritual items they believed could give them favour in the eyes of the CJ.
A breakdown of awaiting trial inmates in the Ilesa prison shows that 186 inmates (including a female) are standing trial for robbery; 39 (including two females) for murder while 96 (five women) for other cases such as burglary, stealing, 419 (obtaining by trick), grievous harm, forgery, absence from court, disrespect to court, kidnapping, house breaking, conspiracy and Indian hemp possession.
Others are threat to life, abortion, dangerous/reckless driving, assault, rape, malicious damage and felony. Only 66 convicts are in the maximum prison!
In the lle-Ife 160-bed Medium Security Prison, there are 132 awaiting trial inmates and 27 convicts. Some of the inmates have been there since 2001 when it was commissioned and have been taken to court over 50 times.
Adewale Okeowo, Wasiu Olabode, Ayo Ayinde and Abiodun Arogundade 'gained admission to the prison' on September 5, 2001 from High Court 3, Osogbo, where they were standing trial for robbery and conspiracy. The case had been adjourned 56 times.
The eager inmates filed out as they were called in batches. While some openly intensified their silent supplications, others had an 'I-care-less-attitude' and were apparently not excited by the presence of the team. One of them, Matthew Ezeigbe, who has been in the Ilesa Prison since May 21, 2007 and is standing trial at the Magistrate Court, Osogbo, for 'unlawful threatening to kill' was the first to file out.
The Chief Judge, after consulting other members of his team and studying the case file, asked the inmates questions. But Matthew was not so lucky. He was asked: 'Who did you threaten to kill?' and he answered: 'My father!' His response shocked the gathering.
Someone in the team told the CJ that the man had been granted bail but nobody came to bail him.
'He remained stubborn for long, insisting that he would kill his father anytime he is released. That scared people away from securing his bail,' the source said. The CJ, however, assured him that his case would be expeditiously tried. Most of the inmates that appeared before the 'special court' suffered the same fate as they were also assured of speedy trial while those on bail were urged to perfect their bail papers and leave the prison.
Earlier, most of the inmates told the sitting that they had been granted bail but could not meet the conditions. Some complained of corruption and unsatisfactory handling of their cases by the police and their lawyers. According to one of them, 'three of us were arrested for the death of one person. The other two have been freed. For over one year I have been suffering here because I cannot bribe the police and other officers in charge of the case. That is why we remain backward. Corruption can never allow us to grow. This sitting is another avenue to feather the nest of those in the team. Little or nothing would be achieved.'
Among those who regained freedom was a pregnant woman, Bose Olufade, who was on trial for assaulting a lady, who she alleged was having an affair with her husband, Sunday Ogini. The couple were charged to court for assault and had been in the prison since February 22, 2010. But Ogini was not as lucky as the constraint of time prevented him for appearing before the CJ.
Oluwole Adebayo was also freed while Isaac Adeniji, who was charged with 'attempt to escape' was freed but he has to continue with his original case, which is stealing. At the Ife prison, Alao Ismaila detained for breaking and stealing regained freedom. Abdul Oseni who had been at the prison since September 12, 2009 for dangerous driving was also set free.
Others who regained freedom are Abiodun Malaika (breaking/stealing), Afolabi Wale (charged with stealing four fowls) and Olayinka Ogundipe (breaking and entry).
Speaking after the two-day exercise, the officer in charge of Ilesa Prison, Deputy Controller of Prison G.O Atoyebi and DCP Kayode Kassim (Ile-Ife Prison), chairman, Osogbo Branch of Nigeria Bar Association (NBA), Toyin Adegoke, Chairman, Legal Aid Council, Samuel Banjo, Osun State Chairman, Judicial Staff Union (JUSUN), Alhaji Oladapo Oseni, and a corps member serving in the Ministry of Justice, Victor Onouha, commended the efforts of the government in decongesting the prisons.