...Even @55, The Best We Can Offer Is..."THE Adventures OF SINators"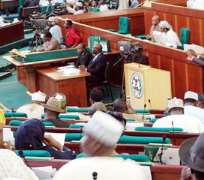 Without doubt, I can imagine how tommorow's dailies would be filled with witty & sugar-coated array of articles and stuffs all in celebration of the Nation's Independence, I do hope this one gets there because the itching truth often don't get applauded & noticed. For each year, I'v engaged my Pen to say one or two things concerning the pitiable state of the nation.It's time we eat our sweet words & hit the nail on the head...It's quite not surprising that even at 55, the best the nation can offer is an adventure full of "SINators", what a perfect timing.For...
In this wake of Political Rape,
...Parliamentary stupidity,
Economic hardship,
A prayer is all we can give.
Let's Arise against the reign of spoilers,
Don't get carried away by their rain of deception,
Let's speak against 'Pocket leadership',
Only If You love remaining a beggar on your own spoils.
I'm tired of seeing our senators,
Becoming athletes,fenceclimbers & Mayweather...
A Prayer is all we can give
.But! But!! But!!!
***"HOW OFTEN DO WE PRAY FOR NIGERIA"***
'We all pray for ourselves, how many of us pray for Nigeria'…It saddens to know within me how the past heroes and patriots of the nation called Nigeria will feel; for the nation they never wished to end up like this, for their legacies which never lived more than their life time. Will their rest be in peace or in pieces?, Will the fasting and prayers they made be in vain upon a nation that's not in one string concerned about praying for itself.
A nation where office miracle, pocket politics, stomach infrastructure, paper intelligence is the culture and order of the system. A renowned writer; Sola Owonibi said; 'America prayed its way through to where it is now, where's Nigeria now?'. He continued; 'History will never forgive some people'... Sure it won't for the time they had to pray for a dieing nation and they didn't.
Let's reach out to God, say a word of prayer daily for our nation Nigeria. America had its past, this is ours which will be a future some day if only we pray for it. Imagine a population that prays daily; 'GOD BLESS NIGERIA'.
On the final note; these are words from a fellow Nigerian who see a better Nigeria.Let's end the reign of locusts... 'We must pray for this country, even if it's not for everyone, do it for yourself'...Sola Owonibi.
...'The best struggle is the one that's people centred, not pocket centred & the best tool I can see supporting that stance is my Pen'...BADIRU KEHINDE
NB: The latter part of the article appeared in the maiden edition of the UNIOSUN, Faculty of Humanities & culture, Ikire Campus Magazine; "The HeartBeat"
Written by Badiru Kehinde...A concerned Nigerian.
Source: www.badirukehindewrites.wordpress.com
[email protected]_banks [email protected]
Enquiries: Call 08135359053 or send a mail to [email protected]
(All rights reserved Oct, 2015)
Disclaimer:

"The views/contents expressed in this article are the sole responsibility of

Badiru Kehinde

and do not necessarily reflect those of The Nigerian Voice. The Nigerian Voice will not be responsible or liable for any inaccurate or incorrect statements contained in this article."