Then PDP, Now APC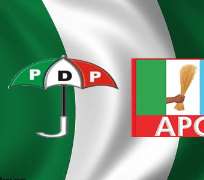 The APC can best be described as a weird admixture of strange bedfellows. Its being an immiscible hodge-podge of power-grabbers bereft of baseline ideologies gives it away as a conglomerate of greedy felons whose main purpose is to plunder the nation's resources.
This fact is readily corroborated by the intensity of infighting which heralded its ascension to power as these greedy felons could not wait to bare their feline fangs and claws so soon after the inauguration of the new government!
The power brokers were consumed with such struggle for power.The obsession that led the party leadership to conduct a shadow election on the eve of the inauguration of both houses of Parliament was no less intense than the compulsion with which those apparently shortchanged by such "election" "betrayed" the party and sold half of their "political patrimony" for a plate of PDP porridge! The party leadership totally forgot to carry Dogara and Saraki along and was duly "punished" for such political omission and recklessness!
When we voted in the APC in the name of "change", we wished for injection of new blood into the political clime and did not bargain for hitherto PDP criminals to transfigure into APC felons! The fact that the APC was too eager to admit the plunderers in the PDP into its fold so indiscriminately is indicative of the fact that it was more interested in grabbing power for percunniary reasons than bring fresh and altruistic ideas into governance!
As for the "betrayal" by the duo of Saraki and Dogara, I put it down to the weird ethical leanings of the fraternity of rogues! Why should I bother my head just because some rogue elements simply lived up to the oaths or ethics of their brotherhood?
Just that Buhari is so different from the rest of the pack...this pack of political hyenas!
Dr Tosin Akindele is a medical practitioner and public affairs analyst.
Disclaimer:

"The views/contents expressed in this article are the sole responsibility of

Tosin Akindele

and do not necessarily reflect those of The Nigerian Voice. The Nigerian Voice will not be responsible or liable for any inaccurate or incorrect statements contained in this article."
Articles by Tosin Akindele