Superscreen TV Bomber: I Wanted Chris Oyakhilomhe's Attention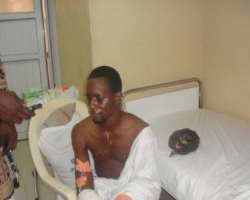 PHOTO: THE LONE BOMBER, SEYI OLAYIWOLA AHMED.
Lagos Jan 7, (THEWILL) - Remember the Superscreen Television bombing incident on December 22, 2009, at the Onipanu area of Lagos, the bomber, Seyi Olayiwola Ahmed, 30, who is also a father of one told reporters he bombed the building to get the attention of Christ Embassy pastor, Chris Oyakhilomhe.
Olayiwola said, "Nobody sent me, nobody sent me, I repeat nobody sent me. My target was not Superscreen Television, I wanted to get the attention of Pastor Chris Oyakhilomhe of Christ Embassy Church. I was frustrated because things were not moving well."
Continuing he said he was contracted to do some work for the church at the Owodunni area of Lagos Mainland and he wasn't paid at completion. He decided to get the pastor's attention to the matter by paying the church in the building a visit armed with a bomb.
Hear him: "My name is Seyi Olayiwola Ahmed, after I finished school in 1997, I went into film production. Early last year, I started feeling frustrated; things were not moving fine. I had interest in films since I was a child. So, early this year, I picked interest in explosives I started going on the Internet and started looking for information on explosives. So, I carried out series of tests on explosive, just recently, I did a test which gave me desired result.
"Because things were not moving well for my family, and I thought that if I can actually get something like this right, I could use it to feed my family and people around me. I am this kind of person that likes helping people.
"My intention was to take my recent exploit to Christ Embassy, Owodunni area for a test because they were owing me for a job I did for them, they were owing me some money and all of a sudden they stopped giving me jobs. I had gone there before to ask for my money and the girl I met told me that she was not aware that I should go and bring the person who brought me.
"When I got there that day, the whole place was locked and I could not carry out my act, so I went to Superscreen to find out how much it would cost to put a Soap in their air time, when I got there, I got distracted and the explosive blew, before I could rush to the Christ Embassy building in that Logemo House, the whole thing had already exploded. My target was not Superscreen, my target was Christ Embassy Church in that place. I went there with three explosives: the first one was intended to draw attention so that I can tell the world why I was there, because I needed to draw the attention of Pastor Oyakhilomhe to my plight. Nobody sent me to Superscreen, my target was not Superscreen, my target was the Christ Embassy Church.
"Right now, I need Pastor Oyakhilomhe to forgive me because I have sinned. My intention was not to hurt anyone, but to draw attention to my plight because one of his church branches owed me. If I had met Pastor Chris and told him about my problems, he would have listened to me, but I did not get the opportunity," he concluded.
Seyi who is still in police custody is currently admitted at the Lagos State University Teaching Hospital in Ikeja, Lagos. He is blind and has lost two limbs due to the bomb explosion.
THEWILL investigations show that Olayiwola's residence is located somewhere around the Fola Agoro area of Somolu in Lagos. He is married with a child.
Lagos Police Commissioner, Marvel Akpoyibo who spoke to reporters after Seyi's chat called his action 'absurd.'
|
Article source