Fayose Showing Zeal To Re-Position Education In Ekiti- Afe Babalola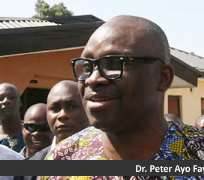 The Founder of Afe Babalola University, Ado-Ekiti (ABUAD), Aare Afe Babalola (SAN), has said Ekiti State Governor, Mr Ayo Fayose, has and is showing the zeal to re-position education in the state and restore its lost glory.
The renowned lawyer, who commented on the Education Summit organised
by the state government, said a similar one organised during Fayose's
first term, really improved the standard of education in the state and
catapulted it to among the best in the country.
In a press release in Ado-Ekiti yesterday by the governor's Chief
Press Secretary, Mr Idowu Adelusi, Aare Babalola recalled that the
governor organised a summit 12 years ago which yielded fruits as shown
by the performance of students from the state in public examinations.
On why he is throwing his weight behind the governor and the summit,
Aare Babalola said: "I must say nobody must have any doubt about my
position. I love this man, I love him because we have something in
common. He's a man of action, I love him because he's a realistic man.
He's dynamic, he's fearless, and when he says yes it is yes, when he
says no it is no, this man is energetic and you need an energetic
person to carry out anything you want to do.
"If you care to watch the television recently, particularly what Mrs
Adeyemo showed us, you would agree with me that the 2003 Summit was a
success, the follow up was a success and Governor Fayose's
administration during the period was a success.
"If you ever go to court of law, when a judgment is going to be read
in respect of a case where five judges preside, the presiding judge
will ask the person who wrote the judgment to read it, then
he'll ask the second, what's your own view, if he agrees,
he will say I agree, if the second one disagrees, he will read out his
own judgment which is contradictory to the majority one. When
everybody has been consulted and the majority of them say
the plaintiff has won, that's the judgment of the court.
"In my own case today, I have listened to the submissions of everybody
and I agree intoto with what all of you have said. I now want the
submission of Mrs Adeyemo to be our judgment today and what is that
judgment? That Fayose's period of 2003-2006 was a
success.
"It was a success in education, and we saw it, when you come from 35th
position to 7th, that is A+, you won A+ Fayose. What I will submit and
add to what you did that time is to ask you to please replicate what
we did that time for Ekiti in education and if you do that, all of us
will have cause to thank you at the end of your term."
Aare Babalola, who commended the energy and zeal with which the
governor handles state matters, sought the cooperation of all with the
governor to make Ekiti a pride of all.
The ABUAD founder also charged parents and guardians to be ready to
sacrifice whatever it would take to give their wards quality education
and to note that government alone cannot do everything, as citizens
must offer their support.