Invasion Of A'Ibom Gov't House: Gov. Emmanuel Sues For Calm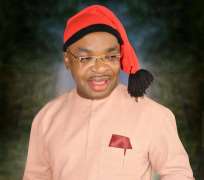 Akwa Ibom State Governor, Mr. Udom Emmanuel, has urged Nigerians and Akwa Ibom people in particular to remain calm as regards the perceived assault by operatives of the Department of State Security (DSS) on their recent inversion of Akwa Ibom State Government House.
Speaking with newsmen on arrival from Abuja at Ibom International Airport, the Governor said that the matter is before the office the President.
He maintained that President Buhari has given assurance to look into the matter. "President Buhari is on top of the situation. He is the President of Nigeria and not the President of a particular party. We just have to be calm and see how he will go about the matter."
It would be recalled that operative of the Department of State Security on Thursday, September 3, 2015, invaded the Akwa Ibom State Government lodge without following the due process.
During the raid, the operative broke into the rooms and guest houses in the Government House. This action has drawn the ire of Akwa Ibom people and groups who have condemned the act describing it as a rape on the costly democratic rule the country is experiencing.
Some of them anchored their condemnations on Section 308, (1), (2), and (3) of the 1999 Constitution of the Federal Republic of Nigeria which states; "Notwithstanding anything to the contrary in this Constitution, but subject to subsection (2) of this section - no civil or criminal proceedings shall be instituted or continued against a person to whom this section applies during his period of office; a person to whom this section applies shall not be arrested or imprisoned during that period either in pursuance of the process of any court or otherwise; and no process of any court requiring or compelling the appearance of a person to whom this section applies, shall be applied for or issued: Provided that in ascertaining whether any period of limitation has expired for the purposes of any proceedings against a person to whom this section applies, no account shall be taken of his period of office.
The provisions of subsection (1) of this section shall not apply to civil proceedings against a person to whom this section applies in his official capacity or to civil or criminal proceedings in which such a person is only a nominal party. This section applies to a person holding the office of President or Vice-President, Governor or Deputy Governor; and the reference in this section to "period of office" is a reference to the period during which the person holding such office is required to perform the functions of the office."